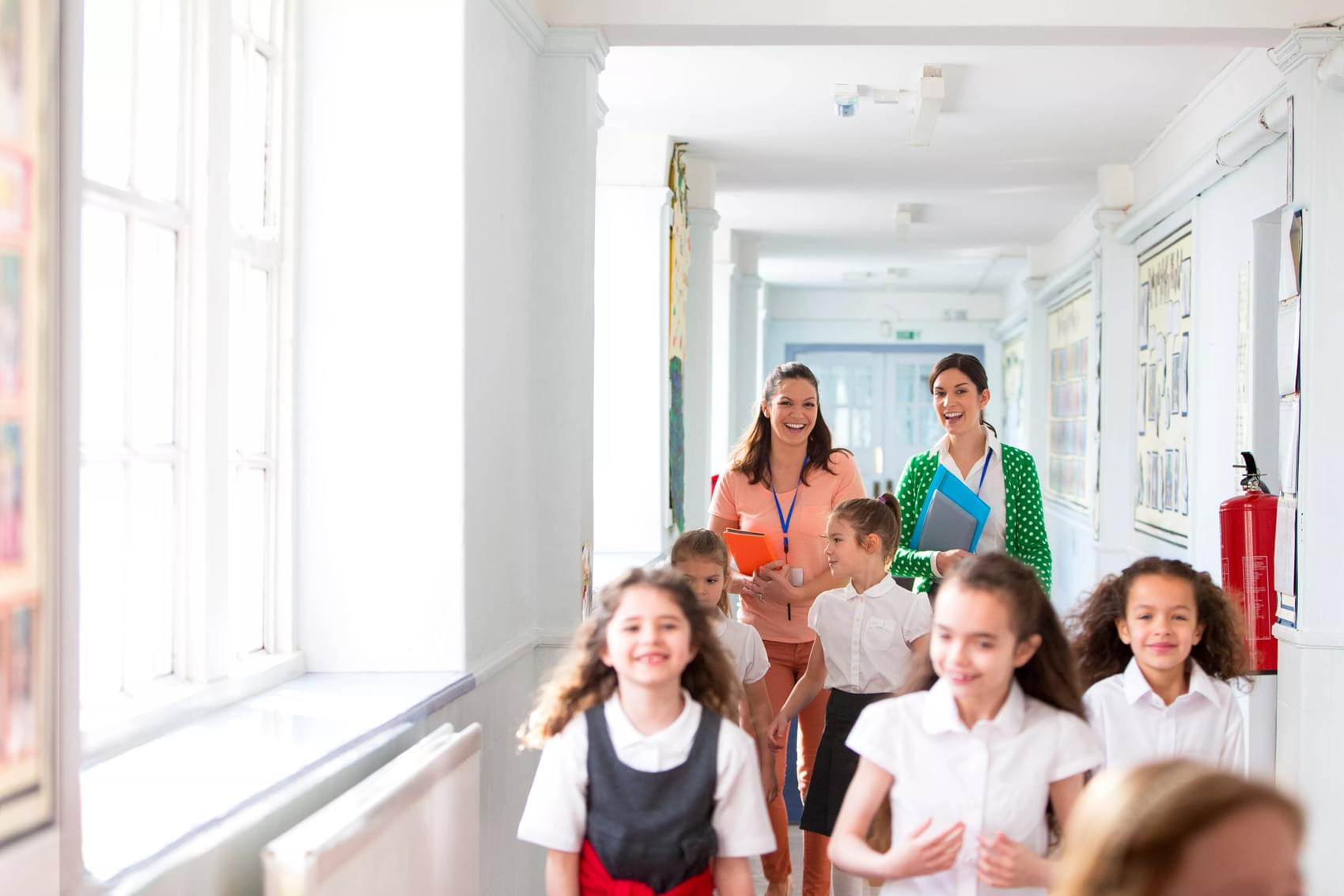 How to become a teacher
16 November 2023
Becoming a teacher can be a deeply rewarding experience. And regardless of whether you're beginning your journey or striving towards your next educational milestone, there are a few things to keep in mind when exploring how to become a teacher in Australia.
In this article, we'll take you through the steps to acquiring the necessary qualifications and we'll discuss why pursuing a postgraduate qualification can give existing teachers a more sophisticated approach to teaching and learning.
What pathways can I take to become a teacher?
To become a teacher in Australia, a tertiary qualification is necessary. However, it's also good to be aware that existing credentials (both educational and professional) can help to determine the extent to which you will need to bolster your eligibility to teach.
Below, we examine the differences between undergraduate and postgraduate pathways, exploring the various ways in which you may already be equipped to enter into the profession.
But first, we take a look at the different levels of teaching and ask the question of which age group most resonates with you.
Deciding on the age group
If you're particularly interested in becoming a high school teacher, or you've always wanted to know how to become a primary school teacher or an early childhood teacher, you may already have made up your mind about who you'd like to teach. In the case that you have, you'll need to select the right course that correlates with your preferred age group.
Below is a snapshot of the different ages you may wish to work with, as well as the courses that must be completed in order to teach within each age bracket.
Working with children aged 6 weeks to 6 years
Early childhood teachers require a teaching qualification. This can be a Bachelor of Early Childhood Education. This course covers areas of study that include language and literacy, children's learning and development, play based teaching, working with families as well as instilling concepts around health and safety.
You may also become a qualified early childhood teacher if you do a program that is a Bachelor of Education (Early Childhood/Primary). This degree qualifies you to teach children aged from birth to 12 years.
Working with children aged 5–12 years
Primary school teachers require a Bachelor of Education (Primary). They help students further develop language and numeracy skills acquired in early childhood and they begin to strengthen their learning and social capabilities.
Working with students aged 12+ years
High school teachers require a Bachelor of Education (Secondary) including study in the area they wish to teach. An alternative pathway to becoming a high school teacher is to study a degree in your interest area, for example, a Bachelor of Science, and then complete a postgraduate degree in education in order to qualify. High school teachers guide students towards developing skills in self-management and critical analysis and forming sound study habits.
Once you have acquired the relevant credentials, prior to seeking employment you will need to gain approval to teach. This requirement may be different depending on the Australian state in which you wish to be employed and it can be completed during your studies so that you can begin teaching soon after graduation.
How to become a teacher via an undergraduate pathway
For those who wish to become early childhood, primary or secondary school teachers, the first step will be to complete an undergraduate teacher education course, such as a Bachelor of Early Childhood Education or Bachelor of Education. These degrees will see you qualify as a teacher. However, it's important to note that once you become a teacher, yearly professional development or learning is required in order to hold your teacher registration.
The distinction between a Bachelor of Early Childhood Education and a Bachelor of Education lies in the age of the children you become qualified to teach. A Bachelor of Teaching enables you to work with infants aged 5 and under in early-learning environments such as childcare centres and preschools. A Bachelor of Education, on the other hand, enables you to teach primary- and high-school-aged children, depending on your specialisation.
An undergraduate pathway is best for those looking to acquire their very first qualification. Anyone wanting to enter into the profession with an existing degree, but one which is unrelated to that of teaching, will need to consider a postgraduate pathway.
How to become a teacher via a postgraduate pathway 
This avenue is reserved for those coming into the field from non-teaching backgrounds who possess existing credentials, as well as for teachers wanting to build upon their current expertise, and it involves completing either a Graduate Diploma of Education (Early Childhood), or a Master of Teaching.
If you're new to the world of teaching, a Master of Teaching (Primary or Secondary) is the best pathway to becoming a teacher.
David Lynch, the chair of postgraduate courses at Southern Cross University (SCU), gives us some further insights into this pathway and the industry overall.
"For these people who have an undergraduate degree, a two-year Master of Teaching is the best option, as it's more for people looking to change careers.
"The Australian Government is currently advocating for individuals to seek out postgraduate education to help combat the growing demand for qualified teachers. Someone with a Bachelor of Engineering, for example, could very well teach maths or science, two areas that are under pressure to find more teachers."
Studying a Master of Teaching online will also allow you to continue working in your line of work as you complete your qualification. Once you begin teaching, your knowledge of subjects that lie beyond the curriculum will enrich the teaching experience for yourself and the learning outcome for your students.
If you're an existing teacher, the benefit of undertaking postgraduate studies will lie in the opportunity to deepen and modernise your skill set. Powerful cultural shifts are taking place in how we lead, how we engage with technology and even in how we manage our online reputations.
By contrast, with a Master of Education, students are typically current teachers or educational professionals who want to build their capabilities to lead school systems, processes and other teachers. With this degree, you'll be able to make a positive change for the school, students and the community.
So, what qualifications do I need to be a teacher?
To recap, to become a qualified teacher you need to have completed one of the following:
An undergraduate Bachelor of Early Childhood Education or Bachelor of Education

A dual or combined degree course (for teachers looking to specialise in particular subjects within a high school curriculum)

A postgraduate degree (for those who have already completed an academic degree in a non-education field)
The final measure upon graduating is to apply for teacher registration to safeguard your employability. All Australian teachers are expected to register in the states in which they plan to work.
The benefits of further education for your teaching career
Teachers today are faced with the challenge of preparing young people for an ever-changing world. Developments in technology with online learning and AI tools are changing the way students learn and teachers teach. Whether you are a new teacher transitioning from another profession or an experienced educator looking to upskill, a postgraduate course will equip you with the skills you'll need to remain agile in this landscape.
For working teachers aspiring to leadership roles or to advance their teaching practice, a Master of Education like the one at SCU offers a valuable opportunity to hone your skills and expertise into other roles within the education system.
The SCU Online learning experience
The online Master of Education from Southern Cross University enables you to become an advocate for contemporary education. This degree is typically for current teachers who want to be leaders in educational settings, specialise in a certain area, or expand their knowledge.
"We are constantly finding new ways to keep up with the changing landscape," says Lynch. "With our masters degree, we continuously evaluate, using behind-the-scenes technology, tracking where people go and how long they stay.
"What we have observed is that highly engaging materials, similar to the experience of binge-watching Netflix dramas, capture students' attention and dedication. Our approach aligns with students' priorities and ensures that their learning experiences are immersive rather than just another task on their to-do list."
The Master of Education also covers a stream unique to SCU and what Lynch refers to as "emerging and sophisticated high-demand areas": leadership, wellbeing, diversity and inclusion.
"We're not just talking about becoming a principal. It's about teacher agency as well. How do you lead in certain environments — everything from leading in your classroom and leading your colleagues to leading the community? The first one is leadership, and the second one is wellbeing. And that's our next stream."
Unlock the potential of your teaching career
By studying an online Master of Education, you can take your current teaching career to the next level.
SCU Online offers a range of advantages that set us apart. We understand the importance of affordability, flexibility and exceptional student support, giving you the best opportunity to unlock new possibilities in your educational career.
Apply online now, or speak with our Student Advisors on 1300 863 819 to learn more about our courses and how we can support you. Start your teaching journey with us today.