---
Why study engineering?
Build. Grow. Move. Launch. A career in engineering is about all that and more. Engineering is a diverse industry that attracts creative problem solvers. From building roads, to solving some of our most pressing problems, such as how to ensure clean water is delivered to our taps safely, are jobs engineers work on.
At its core, engineering is a practical application of sciences. Engineers built the phone you're probably reading this article on, as well as the aeroplane you hopped on to visit a new city (or your home) during the holidays.
If you're a future engineer asking "Why should I study engineering?" There's no shortage of opportunity in an engineering career to apply creative, problem-solving skills to real-life applications using science and maths.
The disciplines of engineering you may have heard of include civil, mechanical, electrical and chemical engineering, with many additional fields stemming from these main engineering disciplines as well, from water engineering to pharmaceutical engineering. Whether you're a qualified engineer and looking for postgraduate study options, or a future engineer waiting to get stuck into your engineering career, there's a study pathway for you.  
---
Studying engineering
There are many study options for those looking to study engineering. Popular study choices include civil engineering, mechanical engineering, chemical engineering, electrical engineering or even aerospace engineering.
At Southern Cross University, we offer many Bachelor level engineering courses, including Bachelor of Engineering (Honours) in Coastal Systems Engineering. Civil engineering is a popular choice for those looking to work as an engineer, offering a strong foundation in structural, water and wastewater, geotechnical, transportation and construction engineering disciplines. 
Online Engineering Courses
If you are working full-time, the thought of finding the time to go to a university campus to do your study could stop you before you even start. Today, most universities offer a blend of on- and off-campus study options with a large number of degrees now being 100% online.
This means you complete a series of readings, activities and assessments through an online learning portal and engage with academics and fellow students in online chat groups. If online connections are a problem, alternatives such as mailed resources and assessments may be possible.
Blended learning, which has a mix of online and on-campus learning is a popular option and especially important where the qualification leads to vocational outcomes involving people, for example, vocations such as teaching or nursing.
For many looking to study engineering or postgraduate engineering courses, being time-poor means they need flexible study options.
---
Gain engineering expertise
In the last 20 years, the way engineering is managed has greatly changed. This is largely due to innovations in technology over the last couple of decades. Below are some of the subjects offered in our Master of Engineering Management at Southern Cross University Online: 
Engineering subjects:
Students will undertake high-level management units, as well as innovative engineering and asset management units to give you the skillset, as well as the capability to build a robust engineering career well into the future. 
---
Upskilling as an Engineer
To become qualified as an engineer in Australia, you will need to study a Bachelor of Engineering, which is a degree that is 3-4 years of study, depending on your specialisation.
For engineers who are already qualified with an undergraduate engineering degree, but who are looking for postgraduate study options, a Master of Engineering Management is a great choice.
Whether you're a recent engineering graduate, junior engineer or senior engineering practitioner, a master's offers specialised training that combines high-level business skills with innovative engineering management units.
Gaining an engineering qualification also helps you fill skills shortages. According to market research undertaken by Job Outlook, civil engineers with applicable skills have been in shortage since 2011. Employees advised they found it easier to recruit for junior roles, but that it was difficult to fill mid-to-senior level engineering roles. Some reasons they cited for lack of suitability included lack of leadership and management skills, and lack of communication skills.
---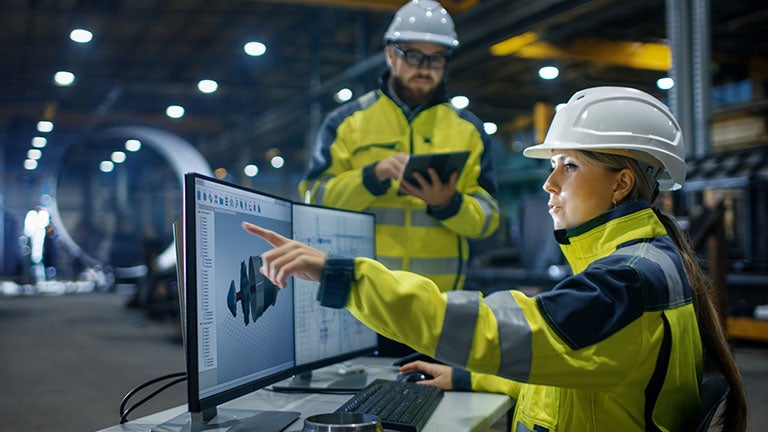 What are the salary expectations of an engineering graduate?
Engineering graduates are some of the most well-paid graduates. A graduate civil engineer is expected to earn $59,000 per annum, according to PayScale. A principal highways engineer can command a salary of between $130,000 to $180,000 per annum.
According to Job Outlook, job growth in the area of engineering construction is fuelled by investment in roads, airports and construction buildings around Australia.
---
Career Pathways for engineering students
Civil engineering is a great choice for people interested in building the infrastructure for the world of tomorrow. Some of the things civil engineers might look after include: water engineering, including how we supply fresh water, and treat wastewater to transport infrastructure, including roads and airports, building embankments for dams. Civil engineers made The Sydney Harbour Bridge a reality, helping to figure out a way a bridge that large could support its own weight.
Mechanical engineering is all about product design, from robotics to energy planning and pollution control. Mechanical engineers can look after projects that focus on emerging sciences and ways to apply them, such as renewable energy, and solar energy towers. Some people combine a science degree with a major in engineering, blending their science with engineering principles.
Mechanical engineers design and maintain machinery. This can include computer-aided design and manufacturing, using CAD/CAM. Other specialisations include consumer product design, automotive, robotics and control systems.
The problems they are working on solving can be everything from what's the best way to control noise, or pollution in various industries such as marine, oil, gas and aerospace industries. 
A principal highway engineer leads and manages design packages for major roads and highways. They are responsible for the project design from start to finish, including all details and delivery roll-out plans. In addition to this, they manage project teams to deliver on time and to budget. To secure a role like this, you would have significant experience delivering major road and highway projects, as well as experience as a mentor of junior engineers, topped off with exceptional communication skills.
A software engineer creates products. They provide services or improvements to websites and apps. A product engineer (within software engineering) builds the designed product, such as a food delivery app. If the designer has requested certain things, which are outlined in mock-ups, an engineer works on how they will implement it in practice. Software engineers, including product engineers, work closely in collaboration with project managers and designers. The engineer then works on the process of building, including the reading, writing and fixing code. No two days look the same.
Transport engineers plan and execute projects that look after this infrastructure. It could include a massive highway upgrade, or a roll-out of a new transit hub for a community. They plan, design and operate these systems that connect people and places, such as roads, bridges, airports, and transit stations.
---
About Postgraduate Study in Engineering
Engineering graduate programs cover topics such as economic viability and sustainability, infrastructure longevity and stakeholder participation. You can choose the units to build your business skills, such as entrepreneurship and marketing, accounting, project management and leadership.
Engineers looking to study at a postgraduate level
For qualified engineers considering postgraduate study, a Master of Engineering Management can help you learn the skills you need for the next chapter in your career.
We offer undergraduate engineering courses and postgraduate engineering courses, including a Bachelor of Engineering and a Master of Engineering Management (delivered on-campus and online).
---
Additional Engineering resources
SCU Engineering blogs:
Engineering associations in Australia: