Choose one of our Healthcare courses
Why study a degree in healthcare?
Australia's healthcare industry is world-class. If you're interested in people, fascinated by the human body and want to help others live healthy, productive lives, studying a healthcare course is a great choice.
As well as being a career where no two days are the same, healthcare also has massive (and steady) employment growth opportunities. Health and social assistance employment in 2018 was up by 57,700 jobs, or 3.6 per cent1. ABS employment data predicts that this industry will grow by a further 14.9% over the next five years, with Australia's ageing population a key driver of this growth.
Areas recording the largest growth included hospitals, residential care services, other social assistance services and allied health services. Working in health has a strong focus on practical and technical knowledge and skills and person-centred care. You work with people and have the option to specialise across many different roles. While studying, you will also have professional industry placements or internships to help you cement classroom learning into real-life application.
1www.jobs.gov.au/newsroom/health-care-and-social-assistance-jobs-rise
What do you learn in healthcare courses?
You can study Healthcare Leadership at a graduate certificate and masters level. We also offer Mental Health and Mental Health Nursing degrees at a graduate diploma and masters levels.
Here are some of the Healthcare unit offerings at Southern Cross University:
About postgraduate study in health: the growing demand for leaders in healthcare
Are you a healthcare professional looking to take the next step in your career? Perhaps you're working in one of the roles listed above?
At Southern Cross University, we offer a Master of Healthcare Leadership and a Graduate Certificate in Healthcare Leadership, taking a multidisciplinary approach to healthcare education.
Studying Online
If you're working full-time in healthcare, the thought of making time to go to a university campus to study could seem almost impossible (especially when you may be working shifts). Thankfully, many universities are offering a range of online undergraduate and postgraduate healthcare courses. For some universities, this means 100% online, where you complete a series of readings, activities and assessments through an online learning portal and engage with academics and fellow students in online chat groups. For others, it may mean having resources posted to you in the mail and completing readings and tasks through a series of prompted lessons.
See what it's like to study online at Southern Cross University.
What roles encompass the healthcare industry?
Below are just a few roles within the healthcare industry and what qualifications are needed for these positions, with an overview of what they might involve on an average day.
Physiotherapists assess and manage injuries that may stem from injury, chronic illness, or disability. As an allied health profession, physiotherapists work with patients using physical rehabilitation to increase mobility and function with the goal of reducing and preventing further injury. 
Pharmacists are medicines experts who work closely with other health professionals such as doctors and nurses. They play a big role in ensuring the safety of the public when it comes to the proper use of medication. 
Nursing
Nurses make up the largest employment within the healthcare workforce in Australia2. As a nurse, you work to optimise patient care in a vulnerable setting, working in a range of settings alongside other allied-health professionals, including doctors and specialists. You liaise between a doctor and patient and administering medications and create care plans.
There are endless opportunities for further education and leadership roles as a nurse. Places you may work include GP clinics, in mental health, with children and adolescents, in aged care, perioperative care, Indigenous health, rural and remote area healthcare, emergency departments and in critical care.
A Bachelor of Nursing is 3-year degree and to gain your qualification, you are required to complete professional placements.
According to Pay Scale, nurses can earn between $65,000 and $75,000 per year. This is dependent on location, seniority and specialisation area.
General Medicine
General practitioners (GP) look after patients with a wide variety of health concerns and diseases. To qualify, they undertake a 7-year medical degree.
Your day-to-day as a GP changes and can include organising diagnostic tests, general health of your patients (chronic health disease management plans) and immunisations. You often provide services for the whole family. According to Pay Scale, a GP with less than 5 years' experience can earn up to $126,000. Compensation rises with experience and is also affected by overtime.  
Occupational Therapists (also referred to as OTs) provide support to individuals who experience difficulty with the activities of daily life. They play an integral role in assisting people in areas such as personal care and social and leisure activities.
Specialising in mental health
Mental health plays a key part in our wellbeing. With one in four people in Australia experiencing a mental health illness in their lifetime, there's a growing demand for highly skilled, passionate mental healthcare professionals. Whether you are a social worker, psychologist or nurse, postgraduate courses offer an exciting opportunity to specialise in this area.
Postgraduate study in the area of mental health spans everything from mental health theory and practice, physical healthcare needs, evidence-based case formulation and common inventions within acute care contexts in primary mental health, as well as contemporary applications of developmental psychology and psychological therapies.
At Southern Cross University, our Master of Mental Health and Master of Mental Health Nursing have been developed with the input and expertise of consumers, active clinicians in the field and academics with strong clinical backgrounds. The capabilities students gain include the ability to apply evidence-based practice, interpersonal skills to help those who consume mental health services as well as technical skills.
Our nursing master specialisation has been accredited by the Australian College of Mental Health Nursing National Framework for Postgraduate Studies in Mental Health Nursing.
Skills you learn while studying health
Some multidisciplinary skills you will learn when studying health include:
Critical analysis
You will learn how to critically analyse, effectively drawing different sources of information to help make the most informed decision.
Stakeholder communication
You will learn the skills to effectively communicate with stakeholders. This includes learning the ability to communicate complex information under time pressure. Depending on your role, you will also develop skills necessary to communicate with other medical health professionals.
Patient administration & record keeping
Working in healthcare demands exemplary patient management skills. You have to take clinical notes, share information and record patient details correctly. You will learn skills to do this quickly and effectively, managing large caseloads without compromising on care.
Patient-centred care
Patient-centred care puts the patient first, with their healthcare team working together for the best outcome. This may involve liaising with the patient's family, other healthcare professionals, and of course the patient themselves. Studying healthcare equips you with the knowledge and skills to prioritise patient care whilst ensuring that the patient's dignity and agency is put first when it comes to making decisions.
Top motivations for postgraduate healthcare study
A strong motivator to study healthcare is to learn the skills and knowledge to successfully integrate leadership principles with patient care.
Healthcare article resources
Study a Health Masters with Southern Cross University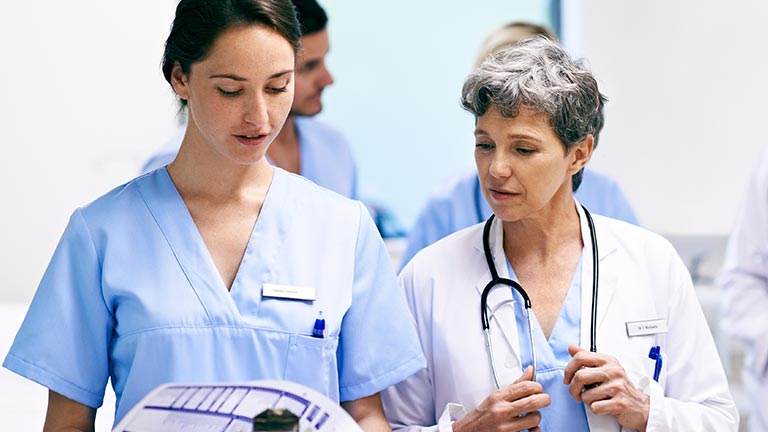 For more details about the SCU's Healthcare Master degrees, complete the form at the top of the page to download your brochure. You'll receive in-depth information on:
Entry criteria
Course duration
Fees and financing options
Courses and assessment types
Industry-related work
Student support
Careers pathways
Career pathways
SCU students who graduate from a Business postgraduate qualification have many career options to choose from. Some of the most popular Business careers pursued are: Accountant Banking and Finance Manager Human Resources Manager Sales and Marketing Manager General Manager Chief Executive and Managing Director -->