Choose one of our Law courses
Why study law?
Studying law at a postgraduate level is for non-lawyers and qualified legal practitioners alike. For non-lawyers, a Master of Business Law offers a competitive edge in a range of careers, including: finance, business and corporate and commercial industries. The intersect of business and law is vast, and legal expertise paired with business acumen is invaluable to excel in the risky world of business. For law graduates and legal practitioners, A Master of Laws (LLM) offers law the opportunity to expand legal proficiency and stay competitive in the global job market. And if you have a degree in another discipline, but want to study law, you can study a Juris Doctor, JD, and move into a career in law through this graduate study option.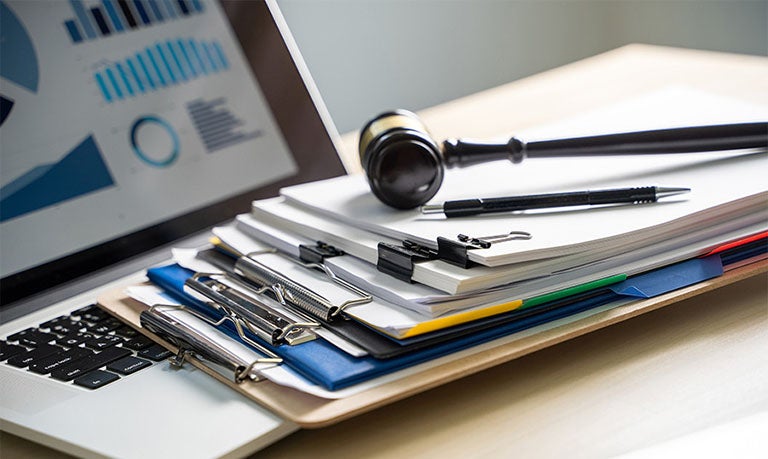 Studying business law
Has a business decision you've made ever kept you up at night? For non-lawyers working in business, finance and commercial and corporate industries, you know that complex decisions with legal implications are made everyday. Questions like: have you negotiated a contract properly? Did that advertising roll-out comply with Australian consumer law? Did that recently published project infringe on anyone's IP? With an endless intersection between business and law, there's very little decisions and actions you will make in your day-to-day that won't have a legal implication. Even buying your daily coffee (can you use your company credit card to buy coffee for the team every morning during a merger?) demands that you know your stuff. Studying business law gives you the knowledge, business law expertise, and skills, to apply your knowledge in context, and help manage your business or role in a business with confidence.  
Gain business law expertise
Qualified lawyers can choose to study the Master of Laws. And non-lawyers looking to safeguard themselves and their business in a world of risk, can choose to study a Master of Business Law. For business leaders working in finance, business or corporate or commercial services the Master of Business Law develops key legal literacy skills and business law expertise.
Below are some of the subjects offered in our Master of Business Law at Southern Cross University Online:
During your studies, you'll gain the skills needed in a rapidly changing global business landscape, as well as the knowledge that helps you to minimise risk and understand the true legal implications of the business choices you're making. It not only helps you in the decisions of today, but helps you to plan ahead for the future with confidence too.
Upskilling as a law graduate
To become qualified to practice law in Australia, you will need to study a Bachelor of Law (LLB). This is three to four years of full-time study. For combined degrees, such as a combined law and arts degree, is five years of study. You'll also need to do practical legal training. You will need to hold a practicing certificate, which is given by each state/territory. For those looking to study postgraduate law, there's the JD (or equivalent) as well as a Master of Laws. For legal practitioners who are already qualified with an undergraduate law degree, but who are looking for postgraduate study options, a Master of Laws is a great choice. Whether you're a recent law graduate, junior solicitor or barrister, or even senior legal practitioner, a master's in law offers specialised legal training. 
Below are some of the units offered in our Master of Laws:
Whether you practice in the private or public sector, the Master of Laws at SCU educate a diverse range of legal practitioners at an advanced level. 
What are the salary expectations of a law graduate?
According to Pay Scale, a Junior Solicitor can earn an average salary of $50,000. A solicitor can earn from $85,000, and a Senior Quantity Surveyor, between $82,000 to $154,539. In an article published on NSW Courts, the salary of District Court Judges are estimated to be about $360,000 while magistrates get just under $290,000. That's just a snapshot of some of the salaries of only a handful of the roles a law degree covers. The salaries of those studying business law vary. This is dependent, as any salary is, on things like experience, and industry. As an example, Pay Scale shows an Operations Manager based in Melbourne Australia can earn on average $110,000 per annum. 
Source: PayScale - 16 July 2019
Studying Online
If you are working full-time, the thought of finding the time to go to a university campus to do your study could stop you before you even start. Today, most universities offer a blend of on- and off- campus study options with a large number of degrees now being 100% online. This means you complete a series of readings, activities and assessments through an online learning portal and engage with academics and fellow students in online chat groups. If online connections are a problem, alternatives such as mailed resources and assessments may be possible. Blended learning, which has a mix of online and on-campus learning is a popular option and especially important where the qualification leads to vocational outcomes involving people, for example, vocations such as teaching or nursing. Many students looking to study business law, or postgraduate law courses, are time poor. This means they need a flexible study option that allows them to move through assessments and reading on their own schedule. See what it's like to study online at Southern Cross University.
Studying business law
Studying law develops your logical reasoning skills and helps you to gain professional competence, in law (to practice). For those looking to study a Master of Business Law, you gain the professional competence to make the right decisions within the context of the law for your business. This isn't only about guarding yourself and your business from risk, but about having the knowledge to seize opportunities too. The more knowledge you have, the more confidence you can gain to go after the things that will maximise business profit and growth. Studying law offers you the opportunity to upskill with this legal knowledge, developing your skill set of selecting, analysing and synthesising information, as well as the ability to critically assess issues. You will also gain independent thinking skills, and the opportunity to practice the kind of deep-thinking a Master level of study provides.
Career Pathways for students studying business law and law
We've profiled some of the roles below: 
Business
Studying business law gives you the skills to advise businesses or be the leader in the business. You will learn how to apply the law in a practical way. For example, studying Consumer Law gives you the skills to assess the risks and gain the skills to apply the best use of the law for a competitive advantage. This can help you as your role as a business leader working in an organisation, whether that's commercial, not-for-profit or Government.
Financial sector
The financial sector covers industries such as banking, superannuation, investing and tax. Below is an example of a role that combines both accounting and law experience and study. 
Financial investigator
To work as a financial investigator, you need to be qualified in accounting and law (LLM). Combining your accounting and legal expertise, you will identify and mitigate legal risks (in fields where legal and financial issues intersect), and offer advice on international financial compliance, including dispute resolution. 
Commercial & corporate environments
For non-lawyers working in commercial and corporate environments, knowing the business choices that you are making are ethical and fall within the scope of the law are two valuable knowledge bases you develop by undertaking your Master of Business Law. You might work as a business manager, marketing manager or HR manager. You could be a franchisee State manager, overseeing the daily operations of 50 or more franchisees, helping to ensure their business success.
Career Pathways for students studying law at a postgraduate level
Qualified law graduates work in not-for-profit, commercial or government. Some practicing law roles include:
Junior Solicitor
Working as a junior solicitor, your day to day may include administration work, diary management, liaising and corresponding with clients, creating legal documents and letters as well as solve problems with client files. 
Solicitors advise clients on legal matters. Daily duties include client communications, preparing documents for court, looking after out-of-court negotiations and working with barristers to advise on legal matters. There are specialisations within this, such as a family law solicitor. 
Barristers are senior, independent legal professionals who advocate for clients and have specialist knowledge of the courts. If a client needs the services of a barrister, they will first have to retain a solicitor. Barristers present evidence before courts for a client. Their day-to-day includes case work, legal research, court appearances, and communicating with clients and solicitors.
Senior Lawyer
A senior lawyer's role changes depending on the employee, but the day-to-day might include court appearances, management of lawyers and legal support officers and court roster to ensure lawyers are available for court when needed. Senior Lawyers have high emotional intelligence and impeccable stakeholder management skills, and look after monthly or weekly reporting as needed.
What are the skills you'll learn in a law course?
Communication skills
Studying law develops your communication skills. This is important for non-lawyers (and practicing legal practitioners) to help communicate within a business setting, and important for lawyers to help communicate effectively with their internal and external stakeholders.
Problem-solving skills
You will learn how to effectively research, and draw justifiable conclusions. You will bring together research and analytical skills to come to business decisions that solve problems with accuracy and skill.
Time management skills
The writing, reading and research you undertake during your legal studies helps to develop expert time management skills. As you work through your coursework, whether at a graduate or undergraduate level, you will learn to manage your time effectively especially for postgraduate students who are often working and studying. 
Negotiation skills
Studying a law degree helps develop your negotiation skills, helping you to strategically structure agreements and strengthen your ability to justify the decisions you make. 
Attention to detail & research skills
This vast amount of reading during a law degree hones research skills needed to accurately find the information you need, quickly. 
Motivators for postgraduate study in law:
A key motivation for non-lawyers who are leaders and aspiring leaders in their organisations and roles in not-for-profit, Government or commercial industries, is to gain legal skills to improve their job prospects in their existing career, or help level-up into a different role altogether. Studying law at a Bachelor or undergraduate level helps you take the first steps to becoming a qualified lawyer. Some schools in Australia require those looking to study the Juris Doctor (JD) to sit the LSAT, the Law School Admission Test. The JD is a graduate level law degree. Most state bars require a Bachelor degree to sit the LSAT. Studying a Master of Laws, or an LLM, requires you to have a Bachelor of Laws or a JD. It allows you to specialise further in law, as well as stay relevant in a highly competitive industry.
About postgraduate study in Law
Qualified law practitioners looking to study at a postgraduate level
For qualified lawyers considering postgraduate study, a Master of Laws (LLM) can help you learn the skills you need for the next chapter in your legal career.  
I have a bachelor's degree in another discipline and want to study law at a postgraduate level. Is this possible?
There's different answers depending on your career aspirations. For those looking to practice law, there's options (as discussed above). However, if you are a professional working in finance, business, or commercial organisations and would identify as a non-lawyer keen to learn business law, a Master of Business Law can offer you the skills and knowledge you need to cement your legal business acumen. To qualify for entry, you will need a Bachelor's degree, or equivalent.  
What options does Southern Cross University offer?
We offer undergraduate law courses and postgraduate law courses, including a Bachelor of Laws, a Master of Laws and Master of Business Law.
Study a Master of Business Law with Southern Cross University
For more details about the Master of Business Law online course, complete the form at the top of the page to download your brochure. You'll receive in-depth information on:
Entry criteria
Course duration
Fees and financing options
Courses and assessment types
Industry-related work
Student support
Careers pathways