Choose one of our IT Management courses
Why study information technology management?
Are you an IT specialist looking for the skills to implement robust IT solutions and manage effective business outcomes for clients? From smartphones, to online banking and the effective running of hospitals, our lives are driven and underpinned by information technology systems that keep our information, and identities safe.
Studying Information Technology Management gives you the skills confidently bridge the gap between IT and businesses. People with IT skills and business knowledge are in-demand. The Australian Computer Society Digital Pule report forecasted Australia will need an additional 100,000 tech workers, by 2023.
For IT professionals, there's no shortage of opportunities to apply their skills in different industries, including private, Government or not-for-profit organisations in areas such as health, technology and communications. 
Studying information technology management
Gain the skills you need to lead and manage key objectives across businesses and investing in a master level IT management degree. Further study will prepare you to step into senior management roles with confidence and a skillset that is built for the management of IT teams, and overall IT project success. In today's increasingly digital world, having both technical skills and management skills can help you become a competitive job candidate. 
Gain IT management expertise
Combine your IT skills with your ability to lead and manage projects to create a career in Information Technology Management.
Here are some of the subjects offered in our Master of Information Technology Management at Southern Cross University Online: 
 Upskilling as a leader in Information Technology
To become qualified as an IT professional in Australia, you will often need to study a Bachelor of IT, which is a degree that is 3-4 years of study, depending on your specialisation.
For professionals who are already qualified with an undergraduate IT degree, but who are looking for postgraduate study options, a Master of Information Technology Management is a great choice for those looking to cement their expertise. You could be a business owner looking to level-up, or an IT professional looking to move into management and need a postgrad degree to be a candidate to move into management.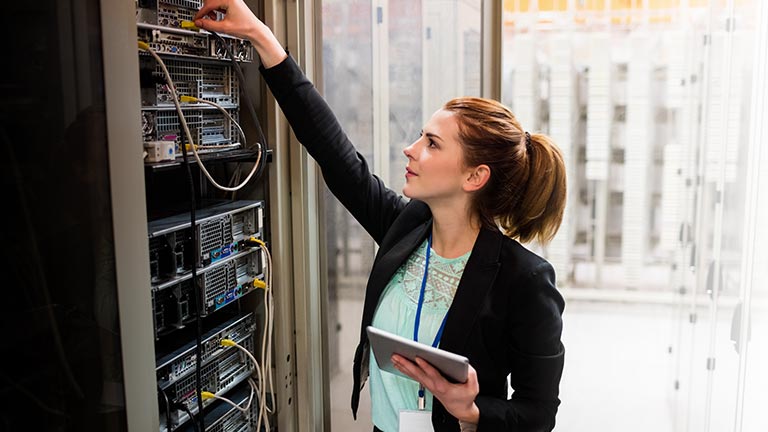 What are the salary expectations of an IT graduate?
According to Job Outlook in 2019, ICT as an industry has jobs that have a very high and high skill level, with both stable and strong future growth.
An IT Manager can earn from $98,000 per annum, depending on experience and qualifications, according to Pay Scale. Database and Systems Administrators and ICT Security professions have an average take home pay of $1693, according to Job Outlook. ICT Managers have a weekly (average) take home pay of $2105, per week.
Studying Online
If you are working full-time, the thought of finding the time to go to a university campus to do your study could stop you before you even start. Today, most universities offer a blend of on- and off-campus study options with a large number of degrees now being 100% online. This means you complete a series of readings, activities and assessments through an online learning portal and engage with academics and fellow students in online chat groups. If online connections are a problem, alternatives such as mailed resources and assessments may be possible. Blended learning, which has a mix of online and on-campus learning is a popular option and especially important where the qualification leads to vocational outcomes involving people, for example, vocations such as teaching or nursing.
See what it's like to study online at Southern Cross University.
Career Pathways for IT students
Qualified law graduates work in not-for-profit, commercial or government. Some practicing law roles include: 
IT Manager
A key responsibility of an IT Manager is to build and implement robust infrastructure strategies that are designed to meet business needs. You are also the key contact between business and IT, translating business requirements into technical specs. You provide reporting, oversee risk management of IT systems and build relationships, both internally and externally. 
Solutions Architect
You will be in charge of the creation and implementation of technical infrastructure within an organisation. You will have to combine your IT know-how with your management skills. 
Business Intelligence Consultant
Using your knowledge of tools and technologies, you will implement business solutions and manage projects for businesses and clients.
Systems Analyst
As a systems analyst, you develop improvement to new or current IT systems, contributing to a strategic increase in workplace efficiency.
Chief Information Officer
A CIO is responsible for the technology workings of a company, and overall alignment of the computer and IT systems and how they help facilitate business goals with maximum impact. You will be in charge of technological resourcing, purchasing and upgrading. You also manage teams, and provide direction.
Business Systems Manager
A business systems manager develops, integrates, and installs effective IT systems.
Security Administrator
Responsible for IT-security, such as firewalls, anti-virus and safety of IT and communications with security systems designed to protect company and clients.
What are the skills you'll learn in an IT course?
Management skills
You will learn knowledge and skills that underpin how to effectively delegate, motivate, communicate, and understand the people you work with. 
Creative problem-solving skills
Through your studies, you will develop creative problem-solving skills helping you to apply creative solutions to problems. It's often about finding smarter solutions to problems you're encountering by applying unconventional thinking to an issue, for example an IT Manager might decide to implement weekly meetings instead of daily meetings to improve productivity and maximise team morale, even if that's not the company's policy on meetings.
Adaptability
Having the ability to adapt to changing technologies and business requirements is a skill you will grow as you work through units designed to help you balance the technological skills you have as an IT expert, with the skills you need to be successful in a business setting.
Staying calm during stressful situations
Information Technology is an industry that requires constant upskilling. This article claims why reskilling and upskilling is the new hiring. It's also one that has high stakes. There's a person behind every online interaction, and important business information and assets your systems are protecting. As well as being able to stay calm during any data breaches or IT issues that may arise, studying IT helps you also learn the best way to approach the business side of IT management. You need everyone to be on the same page with a project, solution and next steps, and staying calm during stressful negotiations is a skill you can learn through formal training paired with on the job training.
About Postgraduate Study in Information Technology
An online Master of Information Technology Management provides you with the skills needed to lead and manage, preparing you to step into senior management positions with a more in-depth understanding of the issues that affect IT teams and processes. 
IT professionals looking to study at a postgraduate level
For qualified IT professionals considering postgraduate study, a Master of Information Technology Management can help you learn the skills you need to combine your IT skills with advanced business acumen.
With IT career growth forecasted to continue to grow, having a Master's level qualification can help you stand out during the hiring process. It can also help aspiring business leaders in the field of IT to learn the skills they need to move into a role (such as some of the roles profiled above) now and into the future.
What options does Southern Cross University offer?
We offer undergraduate and postgraduate IT courses, including a Bachelor of IT and a Master of Information Technology Management (delivered online).
Study a Master of IT Management with Southern Cross University
For more details about the Master of IT Management online course, complete the form at the top of the page to download your brochure. You'll receive in-depth information on:
Entry criteria
Course duration
Fees and financing options
Courses and assessment types
Industry-related work
Student support
Careers pathways