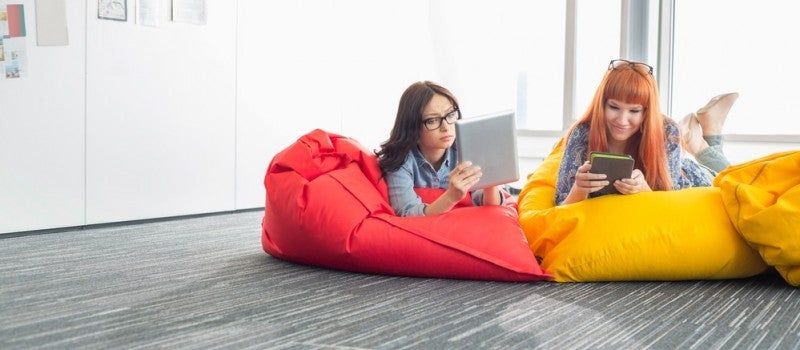 Why autonomy is now trending at the best places to work
6 October 2015
Traditionally, the workplace paradigm commanded lower ranking employees to follow strict patterns and work in teams managed by a supervisor (often managed by another supervisor). Such a pyramid effect has resulted in autonomy only being prevalent at the peak of the hierarchy. But today, autonomy at work has become increasingly commonplace among both large and small firms.
What is autonomy in the workplace?
Lately, autonomous working conditions – or flat organisational structures – have been rolled out across offices, with many companies operating in a results-only-work-environment (ROWE). This model allows employees at all levels to complete their work where they wish, when they wish, and how they wish. This level of flexibility extends to team environments, where divisions work so well together they are ostensibly self-managed. Where there are managers, such autonomy allows leaders to reward teams on their terms, without the requirement for approval from higher management.
Why is autonomy in the workplace so popular?
Businesses that can offer flexibility of this kind to its employees are fast becoming popular amongst workers. Autonomy has long been considered an intrinsic human need, yet until recently, working lives have typically been dominated by someone superior. In the right situation, autonomy promotes innovation, creativity, accountability, task satisfaction and self-sufficiency. Without such independence, employees may be compelled to seek employment elsewhere. Autonomous working conditions also foster health and wellbeing among employees, and improve morale. Staff members report feeling more motivated, and work equally hard – if not harder – from home, when they are on their own clock. Such trust, however, does require the right people and attitudes.
What types of companies offer flexible working conditions?
Flexible working capacities are a popular perk of many Australian businesses on the Great Places to Work list. Ranking number 21 on the list is stationery giant, Kikki K. With a female dominated workforce, bosses allow flexible and remote working opportunities, particularly aimed at mothers with children – facilitating school pick-ups and eliminating the need for paid childcare. Ranked 12 on the list is creative online marketplace, Envato. With highly skilled, competent tech staff, the option to work-from-home and ability to control schedules and timeframes independently has proven to be very motivating and productive for employees in its sector.
Is autonomy for everyone?
While autonomy is fast becoming a key component of highly valuable, dedicated workforces, it's certainly not for everyone. Some managers prefer a strong hierarchy model, and often such an arrangement is undeniably more beneficial for some types of businesses – particularly those with a vast number of lesser skilled workers, or in professions where passion may be less of a driving force. It largely depends on the type of organisation and the existing management model in place.
If you're interested in finding out more, you can learn about workplace practices with an online Masters degree with SCU. Relevant units available include:
Review our range of online courses or call us on 1300 589 882.