Get your MBA in Sydney - 100% online
Corporate Sydneysiders will recognise that their city is a hub of entrepreneurial opportunities and commercial culture. With more than 108 billion generated within the City of Sydney local area (2013/14 figures), the nation's largest city promises no shortage of opportunities for a determined individual. If you've already got your foot in the door, why should wanting to study be the reason you leave the workforce?
A Master of Business Administration with Southern Cross University Online is the perfect choice for modern Sydney-based students. Providing the opportunity to work whenever, wherever it suits, there's no better way to increase your qualifications with an MBA from Sydney.
---
Sydney's career and industry outlook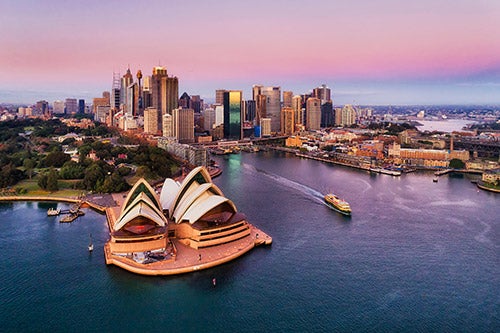 NSW contributes about a third of Australia's GDP. Sydney, like Melbourne, has an economy fuelled by knowledge-based workers. Three of the largest industries in Sydney include financial services, professional services and healthcare. Sydney is actually known as Australia's only global city. It is also home to the Australian Stock Exchange and the Futures Exchange. 
According to the City of Sydney, the estimated number of individual businesses are 22,000 and 40% of the headquarters of the top 500 Australian corporations are located in Sydney. 1 in 5 Sydney residents have both a university degree and speak a language other than English. 
The value of an MBA 
At Southern Cross University Online, our students can study their postgraduate qualification anywhere in Australia (and the world), including Sydney. We've been delivering online learning for nearly 20 years, and our courses are 100% online and accelerated. Find below information about studying your MBA in Sydney with Southern Cross University Online.
The business world is continually evolving, and so too are online MBA courses. Management roles are in high demand across several sectors, including accounting and finance, business management, and other non-business specific fields. 
Graduates of a Master of Business Administration degree are being sought out by employers as they're understood to be a genuine asset to a company. According to the 2019 Graduate Management Admission Council (GMAC), Corporate Recruiters Survey, nearly 9 in 10 (87%) companies located in the Asia Pacific plan to hire MBAs - the highest share of any world region. Other things to note from the survey:
MBA hiring demand in 2019 is strongest among companies in the consulting, energy/utilities, health care and technology industries.
Start-ups have had the most significant increase between their 2018 MBA actual hiring rate (45%) and 29% projected hiring rate at 62%.
Studying in Sydney with SCU Online
Whether you're based in Parramatta, Bondi or Sydney's CBD, with an online MBA from SCU Online, you can hone practical business knowledge from your apartment, your local library, or even over lunch. Delivered via a dynamic, interactive learning environment, you receive the rigorous education as an on-campus student, with the added convenience of building it around your busy schedule.
Our MBA course delivers the strategies necessary for 21st-century management, and the latest concepts in business thinking. It's also designed to suit you – with four specialisations to choose from to ensure you get what you need from your online MBA studied from Sydney. MBA students who study online will be exposed to a variety of business environments through case studies, analysis and their own professional portfolio.
With a particular focus on leadership, we foster the skills necessary to create tomorrow's captains of industry, small business and specialised consultants in Sydney's booming business development. Through a carefully crafted curriculum, you can embrace your true potential.
Our online learning platform 
Our online learning platform helps professionals just like you gain their MBA. All study is 100% online, delivered via a dynamic, interactive learning environment. This means you can learn wherever, whenever it suits your schedule. The online Master of Business Administration from Southern Cross University Online is the same as an on-campus course, and students receive the same rigorous education as an on-campus student.
What you'll study
You will explore topics such as accounting, corporate governance, human resources, and global business practices. With a focus on the evolving digital economy and its role in influencing every facet of the business world, you'll develop the skill to keep up with emerging trends. Our double-weighted Industry Research Project provides the opportunity for you to stretch your wings and delve deep into the areas that interest you most.
Specialise or generalise your degree
Want to study online from Sydney? You can specialise or study a generalist MBA online. You have two options:
Study our comprehensive suite of business units with a specialisation in one of our four key fields: accounting, health services management, information knowledge management or managing and leading people. This study option is an effective way to gain the in-depth knowledge you need to enhance your professional expertise in a specific area.
Study our comprehensive suite of business units without a specialisation, gaining skills and knowledge from a variety of topics, and graduate with an understanding of every facet of Business. 
Networking opportunities in Sydney
At Southern Cross University Online, we host networking events for students based in Sydney (and in other cities too) throughout the year.

One of our MBA students, Melinda spoke to us about the choice to study with SCU Online below. 
Sydney online MBA entry/exit options
We know that plans change. That's why we've built flexible entry and completion options for those studying their online Master of Business Administration from Sydney. This means that if you need to exit earlier than expected, you could still receive a postgraduate business degree through our online Graduate Certificate in Business or Graduate Diploma in Business, based on the units you've completed.
If you decide to return to your online MBA from Sydney at a later date, you'll receive advanced standing towards your degree. Studying a postgraduate business degree online with Southern Cross University, with our flexibility and accessibility, is a win-win!
To qualify for entry into our online MBA, students must:
Demonstrate professional standing – either a bachelor's degree (or a similar qualification) from a university or have other experience that we regard as equivalent to a degree.
Be proficient in English.
Living and learning in Sydney with SCU Online
Southern Cross University Online students based in Sydney can study an online MBA course that fits around their work and lifestyle. Tech-savvy academics deliver units via a fresh, smart, collaborative and interactive interface.
100% online and flexible – complete six units a year, or skip a study period if life or work demands your full attention.
Student success support – from enquiry to graduation, we are there for you.
Networked for success – meet your future colleagues and collaborators.
Learn more about our Master of Business, Graduate Diploma of Business and Graduate Certificate in Business or find out more about studying online.