Get ahead in Brisbane: 100% online MBA
Studying 100% online means geographic location does not limit your choice of university. At Southern Cross University Online, we have students that live and work in Brisbane, as well as cities and towns right across Australia. Below we explore the industries that exist in the greater Brisbane region, and what it's like studying an MBA online in Brisbane.
---
Brisbane's career and industry outlook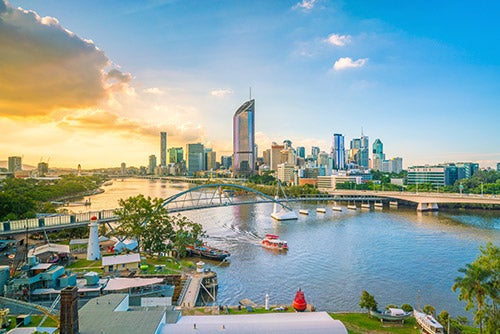 Brisbane, located in South East Queensland (SEQ), has a population of a little under two million people. It is known for amazing weather, 283 days of sunshine a year, and close proximity to both the Gold Coast and Sunshine Coast. In Brisbane, business services account for a quarter of the city's economy. According to Choose Brisbane, other significant sectors include construction, education, finance, government, health, manufacturing, mining, retail, and transport.
The top five industries by employment include healthcare and social assistance, professional, scientific and technical services, retail trade, construction and education and training. The workforce as a whole provides a substantial contribution to both Queensland and Australia. At a glance:
Greater Brisbane's economy is currently worth $171 billion;
Local Government employs 886,000 people;
Brisbane's top industry is Health Care and Social Assistance.

Brisbane represents 47.1 per cent of Queensland's economic output (Source: Brisbane City Council economic fact sheet, Q2 2014). And according to the 2016 Census, In Greater Brisbane, 24.4% of the population is in a tertiary or technical institution. At Southern Cross University Online, our students can study anywhere in Australia (and the world), including Brisbane. We've been delivering online learning for nearly 20 years, and our courses are 100% online and accelerated. Find below information about studying your MBA in Brisbane with Southern Cross University Online.
The value of an MBA 
The business world is continually evolving, and so too are online MBA courses. Management roles are in high demand across several sectors, including accounting and finance, business management, and other non-business specific fields. And in Brisbane, business services account for one of the most significant contributors to the economy. 
Graduates of a Master of Business Administration degree are being sought out by employers as they're understood to be a genuine asset to a company. According to the 2019 Graduate Management Admission Council (GMAC), Corporate Recruiters Survey, nearly 9 in 10 (87%) companies located in the Asia Pacific plan to hire MBAs - the highest share of any world region. Other things to note from the survey:
MBA hiring demand in 2019 is strongest among companies in the consulting, energy/utilities, health care and technology industries.
Start-ups have had the most significant increase between their 2018 MBA actual hiring rate (45%) and 29% projected hiring rate at 62%.
Studying in Brisbane with SCU Online
From on-campus to online, there are plenty of opportunities. But how do you choose the right course for you? For many of our students, studying online allows them to balance work, study and life. They have families and full-time jobs and busy lives. They need a flexible study option and a study schedule that works. Our online study has no exams, is 100% online and delivered by passionate academics. Still unsure? You can read our in-depth guide on how to choose the right MBA for you.
With hard work and support from Southern Cross University Online, an online MBA could have you joining the ranks of highly-sought-after business school graduates in no time. 
What you'll study
Our online learning platform helps professionals just like you gain their MBA. All study is 100% online, delivered via a dynamic, interactive learning environment. This means you can learn wherever, whenever it suits your schedule. The online Master of Business Administration from Southern Cross University Online is the same as an on-campus course, and students receive the same rigorous education as an on-campus student.
You will explore topics such as accounting, corporate governance, human resources, and global business practices. With a focus on the evolving digital economy and its role in influencing every facet of the business world, you'll develop the skill to keep up with emerging trends. Our double-weighted Industry Research Project provides the opportunity for you to stretch your wings and delve deep into the areas that interest you most.
Specialise or generalise your degree
Want to study online from Brisbane? You can specialise or study a generalist MBA online. You have two options:
Study our comprehensive suite of business units with a specialisation in one of our four key fields: accounting, health services management, information knowledge management or managing and leading people. This study option is an effective way to gain the in-depth knowledge you need to enhance your professional expertise in a specific area.
Study our comprehensive suite of business units without a specialisation, gaining skills and knowledge from a variety of topics, and graduate with an understanding of every facet of Business. 
Networking opportunities in Brisbane
At Southern Cross University Online, we host networking events for students based in Brisbane (and in other cities too) throughout the year.

One of our MBA students, Maria Smith spoke to us about the student support she has received while studying in the video below. 
Brisbane online MBA entry/exit options
We know that plans change. That's why we've built flexible entry and completion options for those studying their online Master of Business Administration from Brisbane. This means that if you need to exit earlier than expected, you could still receive a postgraduate business degree through our online Graduate Certificate in Business or Graduate Diploma in Business, based on the units you've completed. If you decide to return to your online MBA from Brisbane at a later date, you'll receive advanced standing towards your degree. Studying a postgraduate business degree online with Southern Cross University, with our flexibility and accessibility, is a win-win!
To qualify for entry into our MBA, students must:
Demonstrate professional standing – either a bachelor's degree (or a similar qualification) from a university or have other experience that we regard as equivalent to a degree.
Be proficient in English.
Living and learning in Brisbane with SCU Online
Students based in Brisbane can study an online MBA with Southern Cross University that fits around their work and lifestyle. Tech-savvy academics deliver units via a fresh, smart, collaborative and interactive interface.
100% online and flexible – complete six units a year, or skip a study period if life or work demands your full attention.
Student success support – from enquiry to graduation, we are there for you.
Networked for success – meet your future colleagues and collaborators.
Learn more about our Master of Business, Graduate Diploma of Business and Graduate Certificate in Business or find out more about studying online.