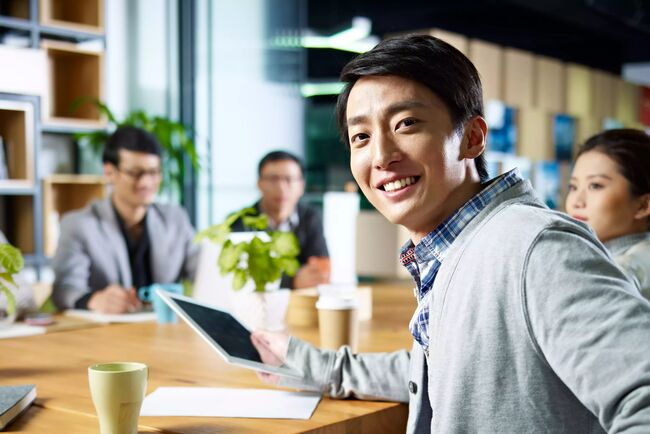 Is an MBA worth it? Everything you need to know
8 June 2023
Looking to upskill in the world of business? One of the first questions you might ask is, 'Is an MBA worth it?'
Many professionals in Australia consider a Master of Business Administration (MBA) a valuable investment in their career development, with the projected growth for business managers expected to increase by 6.1 per cent by 2026.
But choosing whether or not to pursue an MBA is a big decision that requires careful consideration of a variety of factors. For those thinking about taking the plunge, it's essential to consider prerequisites, expenses, timing and motivations, just to name a few.
In this article, we'll look at whether studying an MBA is right for you.
Why study for an MBA?
Studying for an MBA degree can be a great way to further your career, launch your own business or enter a new industry. ​
Marie-Claire Trotter is the CEO at The Q Train and has more than 10 years of business experience. She found the skills she learned during her MBA placed her in a stronger position to support her employees and navigate the challenges of her role as CEO.
"I can now put into practice everything I learned from my MBA," she says. "When I'm meeting with people and giving interviews, I feel much more confident in my role as CEO. It also helped me get over my imposter syndrome."
She highlights the many benefits of pursuing an MBA, including a general understanding of economics, networking opportunities, improved communication, problem management skills and increased confidence.
"The second you get into the real world, you realise that the skills you learn in your MBA are extraordinarily important, from managing staff to working with community organisations. You learn how to negotiate and communicate in a diplomatic way, which I think is so important in business."
Through the process of writing assignments, Trotter also found that she was successfully able to submit grant and award applications.
"My writing skills and attention to detail that I honed through the MBA have been incredibly useful tools that I've carried back into my business."
The opportunity for a salary increase is another reason why you might consider an MBA. With an MBA degree, you have the best chance of finding yourself in Australia's top 2 to 3 per cent of income earners. And with continued demand for graduate management talent, the opportunities for career growth remain high.
The best time to get an MBA
The best time to get an MBA depends on your individual goals and circumstances.
Generally, most people pursue an MBA after several years of work experience, as the program is designed to build upon existing knowledge and skills in business. This work experience can also provide valuable context for the concepts taught as part of an MBA.
You may pursue an MBA earlier in your career — for example, following a bachelors degree — particularly if you're interested in new career paths or starting your own businesses.
Ultimately, the decision to pursue an MBA should come after carefully considering your personal and professional goals and your readiness and ability to commit to the program.
5 things to consider before pursuing an MBA
1. Assess prerequisites and pathways
The prerequisites for an MBA can vary greatly depending on the business school you choose. Some courses may require you to hold a bachelors degree or equivalent qualification, while others look for a minimum level of work experience.
Many MBA courses in Australia offer flexible study options for working professionals, such as part-time or online programs, so you can accommodate your work schedules. Assessing the right pathway for you is an essential step.
2. Know your motivation
It's important to know that studying for an MBA is a great deal of work. Understanding your reasons for pursuing an MBA will help you set aside sufficient time to complete the course.
Do you want to advance in your current career, pivot to a new industry or launch your own business? Knowing why you want to earn an MBA will help you stay focused and motivated throughout the course.
To alleviate any stress about balancing work and study, it's best to plan your study commitments in advance. By doing so, you can be assured that integrating study into your professional work life is manageable and achievable.
3. Understand the financial commitment
The financial commitment is significant and may seem daunting, but if it secures you a promotion or new employment opportunity, it can definitely be worth your time and your money
For example, the cost of studying an MBA in Australia with SCU Online is $2,990 per unit. The full MBA is made up of 16 units (8 units are equivalent to a graduate diploma, and 4 units will get you a graduate certificate).
It's essential to consider how much you are willing to spend and whether the expected return on investment is worth it. For example, the average salary for business managers with a postgraduate qualification in Australia is $121,000. This means that after completing your MBA, you should earn back what you spent in as little as six months.
4. Get ready to network
Networking is a vital aspect of an MBA program. It allows students to make new business contacts and expand their professional connections. Trotter further highlights the importance of a professional network.
"I was lucky enough to do an exchange program with my MBA," says Trotter. "Working for a tourism-based business, this was hugely beneficial, as it meant I opened up my broader network and had exposure to international trends, which I could then take back to the business."
5. Prepare for the challenges of studying
Studying for an MBA comes with its challenges, including juggling full-time work and personal life with your studies. It's essential to prepare for the challenges that come with the program and develop effective time-management skills to stay on track.
Studying online also means no face-to-face interactions with other students or academics. However, there is incredible support provided by the academics and online team at every step of your learning experience.
Despite the presence of these challenges, studying online can be a great way to fast-track your education while managing your professional work commitments. It provides an opportunity to acquire essential business skills that can be directly applied in your job, enhancing your motivation to learn.
Should I study for an MBA?
Before enrolling in an MBA course, you must consider whether it's the right choice. "The knowledge I learned from my MBA has been invaluable," says Trotter, "not just in my business life, but also in my personal life."
It's important to have a clear idea of why you want to pursue an MBA and how it fits into your career goals, as well as to take the time to research and compare courses to find one that aligns with these goals.
How do I choose the right course?
When choosing the right MBA course, there are several factors to consider. The first is the time it takes to complete the course.
"An MBA is a long goal. It's a marathon, not a sprint," says Trotter. "And I don't think there's any other degree where we focus so much on the end result as we do the process of learning along the way."
Another thing to consider is your current work experience. "Even without a bachelors degree," says Trotter, "your work experience can be a strong asset and should not be overlooked. Trust your instincts. If you think an MBA is the right path for you, it probably is."
At SCU Online, we recognise the value of education and experience. We understand that experience is a crucial aspect of personal and professional growth, and we believe everyone should have access to high-quality education. This is why we accept students into our MBA by taking into account their work experience without requiring completion of a bachelors degree.
What you'll learn as part of your MBA
An MBA course can help you develop a skill set that is not only diverse but also future-focused.
With SCU Online's MBA you will gain a comprehensive understanding of business management and leadership models. You will acquire essential leadership skills across all domains, including communication, problem-solving, decision-making and creative and critical thinking, which will position you for success in any leadership role. 
Many MBAs also offer specialisations, allowing you to tailor your studies to your interests or next steps. For example, our MBA offers specialisations in accounting, health services management, information and knowledge management, and managing and leading people. 
To prepare MBA graduates for the constantly evolving global business landscape, our MBA course also emphasises global and local needs. By undertaking team-focused and globally focused units, you will learn to navigate change and uncertainty while ensuring business sustainability in various situations and scales.
Begin your MBA today
Ready to take a step toward getting your MBA? With SCU Online you can start studying right away with one of the most accessible and flexible masters degrees available in Australia. Our goal is to empower you to pursue your career aspirations and achieve your personal and professional goals.
SCU Online's MBA course also offers flexible entry and exit points, allowing you to customise your studies to match your lifestyle.
We understand the importance of your prior learning and experience, and we assess each student's situation to provide personalised pathways to complete the MBA. With our Advanced Standing program, you can even receive credit for your previous education, allowing you to graduate sooner.
To find out your eligibility, visit our online MBA course page or speak with one of our Student Advisors directly on 1300 863 819.