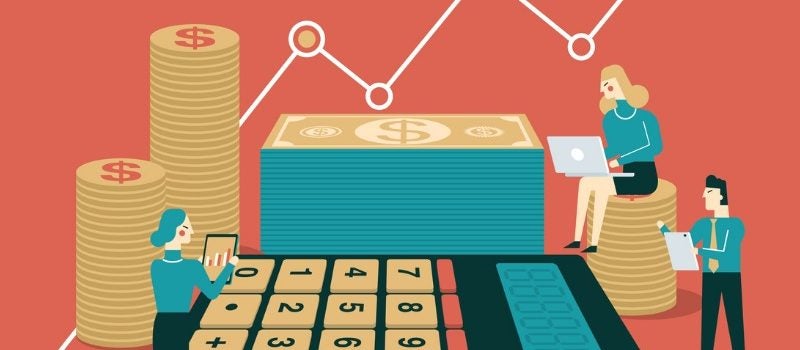 How does an MBA affect your salary?
2 May 2019
It's hard work, expensive, and a daunting prospect to leave a stable career and study for a Master of Business Administration (MBA). So, why do people do it? Of course, there are a variety of reasons to take the plunge. Perhaps you're looking to move into a management or leadership position in your current field, or diversify your talents in order to make a particular career change. Whatever the reason, underlying all these motivations is the significant positive effect that an MBA has on graduates' salaries.
The Financial Times reported that increasing their salary was the main reason given by students for doing an MBA. And no wonder – they are among the most expensive of all postgraduate degrees. The average MBA fee in Australia increased 2% from 2018 to 2019 and now sits at $52,00, according to MBA News. With such a significant investment, it is important for prospective students to be sure that this will be a cost-effective move to make for their future career.
There is a lot of discussion on salary expectations for MBA graduates, which at first glance can be baffling. A quick google search reveals statistics on graduates' salaries which seem to wildly fluctuate between extremes of $150,000 to $45,000. Understanding the facts and figures being thrown around of the earning potential of graduates is vital if you are considering whether this is the right course for you.
Average salaries
It is undeniable that the salary expectations of an MBA graduate are significantly high. The Financial Times reported that in 2017, alumni of the top 100 MBA courses globally were paid, on average, $142,000. In the USA, the Corporate Recruiters Survey suggested that the 2018 median starting salary offered to MBA graduates was $105,000.
Even with the uncertain financial and political situation halting or reducing economic growth worldwide, MBA salaries remain strong. After the global financial crisis of the 2000s, the yearly increase in salaries which has been happening since the millennium slowed but never stopped, and since then they have been growing better than ever. Between 2016 and 2017 the average salaries of MBA graduates increased by $7,000. This was the largest absolute increase in over twelve years, which led Judith Hodora, the co-founder of Fortuna Admissions (an advisory company for business school applicants), to call it a 'golden age' for MBA jobs.

Data collated by the Financial Times shows both salaries and tuition fees rising over an eleven year period.
Before and after
Aside from the sheer size of the average salary an MBA graduate can expect to earn, the figures indicate that there is a significant difference between pre- and post-graduation pay.
Since 2014 the pre-MBA salaries of graduates have at least doubled, three years after gaining their qualification. Once again, such a significant step-up in pay has been constant throughout the history of MBA qualifications. Research reported by Forbes in 2010 showed that, for full-time students, starting pay after completing an MBA was more than 50% higher than pre-MBA pay. This is consistent with research conducted back in 1994 and 1997, which showed an increase of just over 50%.
Most people undertake a postgraduate qualification hoping that their pay-check will be influenced in such a way, but it is unusual for there to be such consistent evidence of the tangible effect one qualification can have.
Variation in salaries
These figures look neat and tidy on a screen in black and white but, as with all statistics, they can be broken down to provide more insight into this topic.
As is the case in most sectors, the amount you can expect to earn after completing an MBA varies depending on experience in the workplace. PayScale, the American website which provides information about job market compensation, conducted a survey of thousands of MBA graduates and found that average salaries vary according to work experience. Those who had less than one year of work experience earned an average salary of $52,872, those with one to four years of experience earned $60,779 and those with ten to nineteen years earned $100,283.

Work experience of MBA graduates, sourced from Payscale.
The gender pay gap – a phenomenon which, shockingly, persists across employment sectors to this day – can be seen in action when it comes to MBA salaries. According to one study, male graduates from 2012 made on average 22% more than their female counterparts. The difference between men and women varies depending on which field they are working in – only 3% for those working in healthcare, to a 36% difference for those working in management, but it remains a constant presence. However, many business schools are taking measures to actively combat this gap, and a comparison of surveys from 2013 and 2015 show that the gender pay gap for newly graduated MBAs is shrinking.
Additionally, MBA graduate salaries vary significantly depending on the field they enter. One of the reasons why an MBA is so appealing is its broad scope and the opportunities it provides to diversify into a range of fields and careers. Diverse fields mean diverse pay – on average the consulting industry yields the highest salaries, whilst those in the non-profit sector have the lowest.
Beyond salaries
Of course, an MBA affects your salary in more ways than can be seen through studies and statistics. It might give you the knowledge and confidence to change direction in your career, which ten years down the line leaves you in a high-paying job you wouldn't have been able to land without it. It could allow you to finally pursue your dream of starting your own business, leaving you more fulfilled, engaged and motivated in your job than you had been working at the office day in, day out.
Studying an MBA online with Southern Cross University gives you the option to diversify in this way by offering different specialisations: from Accounting to Health Services Management to Managing and Leading People. This flexibility means you can make the course work for you – wherever you take it, an MBA will give you the skills you need to traverse the complex world of business, along with an expanded circle of contacts, a broad range of transferable skills, and a salary which reflects them.