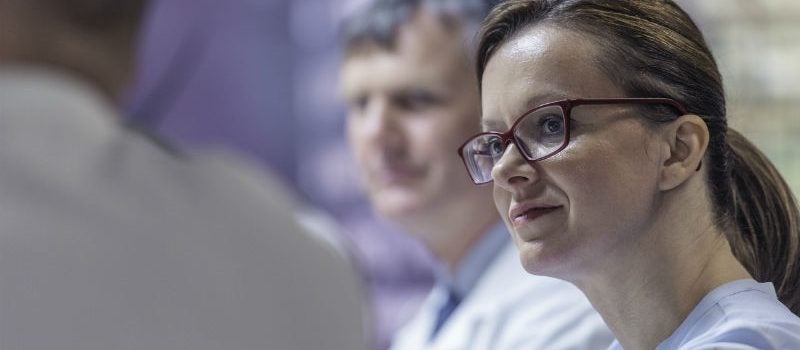 Crystal ball-gazing: The future of healthcare leadership and management
20 December 2017
The healthcare sector presents two exciting challenges for you as a career-minded professional looking for opportunities to continue – and expand – within your chosen field. It is a growing Australian industry and its needs are changing.
Embrace change and uncertainty
"We're preparing in many ways for an unknown future," according to Dr Louise Horstmanshof of SCU's Postgraduate Framework Lead School of Health and Human Sciences. "For the future of healthcare management this means planning for, responding to and effectively managing change in a complex and busy environment."
To cope with this state of flux, we need leadership from people who are open to opportunity, people who can look at data, look at systems, be critical about them, make decisions about them and – crucially – lead others, she said.
Interpersonal skills will be increasingly valued
Alongside a general skill and knowledge base for understanding where healthcare fits into today's society and economy, broad "personal, interpersonal and cognitive capabilities" will be increasingly required for healthcare career and leadership success.
Future healthcare management will appreciate your ability to organise work and manage time effectively, to give and receive constructive feedback, to persevere and yet be realistic enough to have a fallback plan to deal positively if "things go wrong". Dr Horstmanshof also emphasises empathy and collaboration as qualities that will enable you to work successfully with a wide range of people from communities, NGOs and even when developing a network of colleagues.
Transportable skills are the future
New Work Order – a recent report from the Foundation for Young Australians (FYA) reveals that today's employees are likely to have 17 changes in employer across five different types of career throughout their lives. The report identifies various job clusters within which employees will typically move, and Horstmanshof pinpoints the "technologist", "carer" and "informer" clusters as the three with the strongest prospects for the future of healthcare leadership management.
Rather than target specific jobs, she argues that building up a transportable portfolio of skills is a more appropriate way to fit in with evolving healthcare leadership trends. She suggests aspiring healthcare leaders develop adaptability, as well as a 'toolkit' of skills that cut across the "technologist", "carer" and "informer" clusters, for example: interaction, problem solving, teamwork, how to find and use research, planning and project management.
Dr Horstmanshof says the future of healthcare management will only benefit from professionals developing a strong skill-set and committing to ongoing learning and professional development.
Healthcare providers are looking ahead to both employ and develop staff with a strong sense of self while also being open to others. Aim high and take to heart Horstmanshof's advice: "Be the leaders you would like to work for".
Position yourself for success as a healthcare leader or manager with SCU Online's Master of Healthcare Leadership. Learn more about our online healthcare postgraduate programs or speak to one of our expert Student Enrolment Advisors today on 1300 863 819.