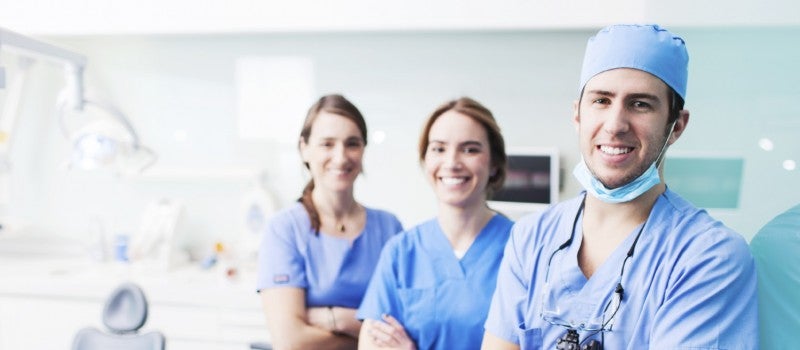 Job opportunities after studying a Master of Healthcare Leadership
14 August 2015
The Master of Healthcare Leadership is designed to give you a broad, interdisciplinary perspective on the changing face of healthcare. It's about moving up in your current discipline, de-siloing and moving across disciplines as a manager or leader, or taking a leap into a brand new health arena.
The course is as relevant to an allied health professional with a Bachelor degree, or nurse with a diploma and 20 years experience wanting to move out of direct care, as is it to a dental assistant or veterinarian wanting to open their own surgery. Likewise, it's a brilliant springboard for someone with extensive managerial experience to move into the health sector for the first time.
For this reason, the career outcomes of a Master of Healthcare Leadership are many and as varied as you can imagine. Here are a few of the things you might find yourself doing, once you've finished studying with us:
Nurse Unit Manager
You'll lead, direct and coordinate the nursing and multidisciplinary care team at the ward or unit level. You'll ensure practice is safe and efficient while maintaining standards of care through continual quality improvement and staff development initiatives.
Medical Administrator
Reporting to the Executive Director Chief Medical Officer you'll be involved in leadership and governance, quality framework and senior and junior medical staff recruitment. Your ability to spot research anomalies and interpret findings will be vital in providing strategic leadership and improvement in an academic environment.
Senior Policy Officer
You'll contribute to the development, implementation, monitoring, reporting and evaluation of key public health promotion policies and strategies. Your demonstrated experience in the preparation and dissemination of research (from your Masters degree), will help you develop new legislation, undertake reviews of existing legislation and participate in the development of evidence based health recommendations.
Quality and Clinical Governance Manager
Your leadership of the accreditation cycle will ensure excellent clinical and corporate service delivery. Your day-to-day responsibilities will involve incident and complaints management processes and you'll support service improvement and risk management for the whole facility.
Program Manager
As a qualified clinician with program management experience you'll be responsible for delivering training and high level strategic and operational management of a multi-disciplinary team. You'll also be involved in researching program effectiveness and different modes of care, and you'll seek and retain government funding.
Chief Executive
You'll be an ambassador for the organisation, providing inspirational leadership coupled with clear vision and commitment, ultimately driving your health facility/service through future phases of development.
Care Manager
Reporting to the Facility Manager, you'll be responsible for clinical leadership of a multi-disciplinary team of staff working in multi-bed community care facilities. Your leadership skills will help you confidently deliver quality service and continuous improvement.
Practice Manager or Owner
This is a wide-ranging position that encompasses everything from significant business development planning down to basic day-to-day duties. Your leadership expertise will help you inspire innovation and shape your dynamic medical practice.
University Academic or Lecturer
Develop and lead successful research programs (for example public health best-practice), be proactive in building funded research collaborations (including with external partners) and teach at the undergraduate level or provide postgraduate supervision, all while working as part of an innovative, research-centric team.
To find out more about how a Master of Healthcare Leadership with SCU Online could make all the difference to your career, speak to one of our Student Enrolment Advisors. We're available Monday – Friday on 1300 589 882.