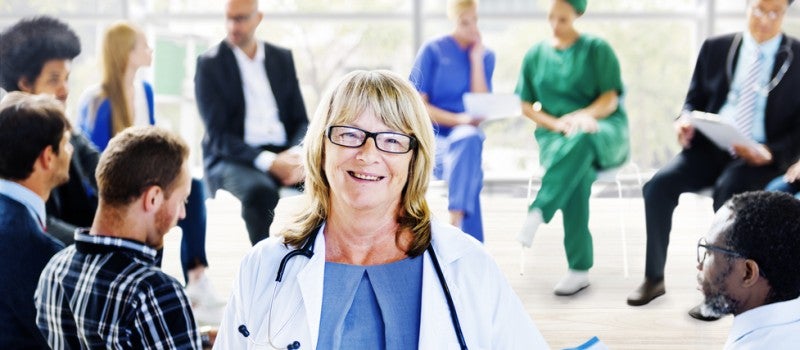 How to become a leader in healthcare
2 September 2015
If you're excited about the future of healthcare in Australia, you've probably thought about taking an active role in leading the healthcare industry. So what do you need to be to become a leader in healthcare?
Know what type of leader you are
Regardless of industry, leaders need to establish their style, and stick to it. Ensure you have a strong vision, and develop a leadership style to support it. Know who you are and who you want to be. A coaching leader who drives staff to succeed? A democratic leader who manages their team to make innovative decisions? Complex and thoughtful leadership, rather than basic management, will ensure that your patients, staff and stakeholders can all reap the benefits of your leadership.
Be future-minded: think ahead
In such an evolving era of healthcare, it's important to be a forward thinker. Do you see changes in the industry before they happen? You probably keep up to date with journals and blogs within the industry and have a passion for research. Not only do you need to have the ability to predict what might come next, you need to be able to source a reliable team to support and complement your work ethic. You'll need a team that you can lead into the future, without unnecessary barriers or opposition.
As a leader, you'll need to be an independent thinker, and be able to gather information to find solutions to problems facing your patients. A decisive and strong-minded attitude is a valuable healthcare leadership trait – and thinking ahead strengthens this skill.
Use change as motivation
As a healthcare leader, you need to be motivated by change – and also be able to use change to motivate your team. Agility in adapting to ever-changing working conditions and seeing new obstacles as opportunities are qualities of a leader in healthcare. Understand that change doesn't need to compromise your leadership vision – use that change to drive your vision forward, adapting your goals as you go. Look at the future and work out how your organisation will be a part of it.
Be engaged
As you progress in healthcare management, you'll hear the words 'relationship industry' more times than you can count. As a healthcare leader, you'll maintain relationships at every level – with your staff, patients and stakeholders. Balancing the needs of each of these relationships and managing them using your leadership values is a vital skill.  You'll be attentive to what each group requires from you – and how you can deliver it.
Become a healthcare leader with SCU Online
Online study with SCU can help direct you towards becoming everything a healthcare leader needs to be. Our Master of Healthcare Leadership teaches you to critically evaluate and translate research into clinical practice. You'll explore industry policy, leadership styles and application to healthcare, and how to respond to internal and external changes that affect healthcare delivery. You'll have what it takes to apply your leadership qualities to your work in no time.
For more information on our Online Master of Healthcare Leadership, speak to one of our Student Enrolment Advisors. We're available Monday to Friday on 1300 589 882.