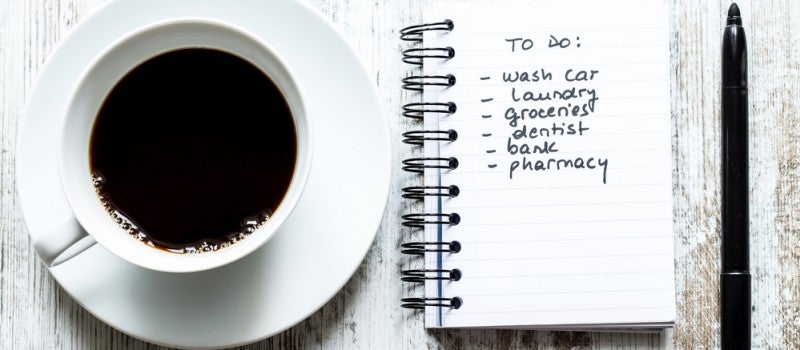 Getting organised: Don't forget the basics!
10 August 2015
Organisation is what makes busy workers successful. It's what allows you to balance work, life, and study without feeling overwhelmed. It's what lets you constantly deliver work (at uni and in the workplace) on time and of high quality. It's what many of our students say is the key to their success.
But how do you get organised? If you're embarking on postgraduate online study, you may find your list of tasks can quickly become long and complex. Luckily, getting organised for online study can be surprisingly simple, and getting into the habit of being organised now (at the beginning of your course with Southern Cross University Online) will put you in good stead for success throughout your whole study experience – it may have flow-on effects at work too!
Use a calendar and a diary
You're likely already using these two simple tools for managing your life and work - so adding study commitments will be easy. Being far more visual, your calendar is great to see your commitments at a glance. Your diary enables you to add more detail, so no information, no matter how minute, will get lost.
Whether you're a pen and paper kind of person, or prefer to use a digital organiser like Google Calendar, make sure you include all assignment due dates and commitments (personal, work and uni-related) – and regularly check it. There's nothing worse than suddenly realising your major assignment and the weekend away that you booked months ago clash!
Schedule your time
Now you can see at a glance the assignments you have and when they are due. Plan when you'll work on your tasks and assignments, and then schedule some days off and squeeze in a coffee date or a night on the town. You'll soon realise you can manage to do all the things that make you happy, as well as fit in work and study.
Be realistic with the time you block out for study, and make sure you'll be somewhere you won't be easily distracted. Fitting 15-20 hours of study into your week is easier than you might think.
Write to-do lists
As soon as you've finished reading this post, write yourself a to-do list for the rest of the day. You'll start seeing the benefits almost straight away.
Make sure to update your list and evaluate your progress regularly. You might choose to write your list at the start of the day to boost motivation. Alternatively, you might prefer to write it at the end of the day, so you can set yourself up for tomorrow.
Learn to prioritise your list, being reasonable about what you can achieve. When you do polish off a task, have a big red marker or pen handy so you can cross it off the list – it's incredibly satisfying!
Make your to-do list agile
If you're juggling lots of competing deadlines (at work and with study), and you're a visual person, you might find it helpful to be able to quickly reprioritise your tasks using Agile fundamentals. Write each task, it's due date and how long it will take to complete (in hours or days) on a post-it note.
If a task is complex or will take longer you might like to break it into a series of two-hour tasks (written on the same colour post-it). You can then plan your week or month, get a feel for your progress at a glance and easily re-assess what's most urgent, along the way.
For more advice to help you reach your study and career goals, speak to your Student Enrolment Advisor on 1300 589 882.