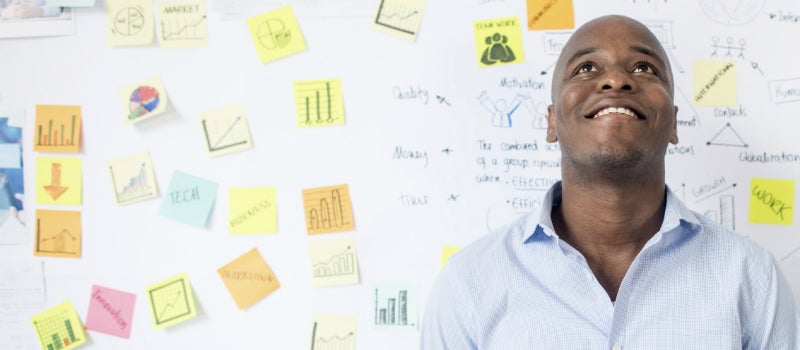 Introducing our newest course - the Master of Project Management
14 January 2016
Have you found yourself working in project management after starting your career doing something quite different? Is your CV missing that critical piece of evidence to demonstrate to your current or future employers that you do, in fact, know what you're talking about? If the answer is yes, we have the solution - SCU's Online Master of Project Management.
What you'll study
Our Master of Project Management is aligned with the Project Management Body of Knowledge (PMBOK® Guide). This means you'll develop essential skills identified by the Project Management Institute as vital for effective project management - for example risk, control, planning, implementation, evaluation, collaboration and systems analysis. As part of your degree you'll study:
6 x core project management units.
4 x elective units - you can focus your selection around one are of specialisation or chose a broad range based on your interests or future career goals.
An industry research project - this double-weighted capstone project enables you to demonstrate what you've learnt throughout your degree and can be tailored to your workplace.
For example, if you work in sales, you may choose to undertake a study in the roll out of a new iPad-based point-of-sale system for your business that integrates with the warehouse to ensure replacement floor-stock is automatically ordered and shipped. Or, you might put together a business case around implementing project management methodologies to ensure your meetings at work are more productive and results driven.
The beauty of the course is that it's entirely adaptable to your needs. If you can see a future for yourself in project management in a health setting you may choose to study all four units related to Health Services Management. Alternatively, you could study a mix of people management and engineering electives - particularly useful if you're an engineer managing a team.
How long it'll take
Our degree is one of the quickest to complete. Most of our competitors (as at January 14, 2016) offer project management degrees that require two years of full-time study. With us, you can study part-time, in accelerated mode, and complete your degree in just two years part-time (or quicker if you qualify for advanced standing based on previous study).
The low down on low fees
Study with us is not only speedy, it's great value. Per unit we're about $500 cheaper than our competitors (as at January 14, 2016). That might not seem like much, but over the life of your degree this could add up to an extra $6000 in uni fees. And, if you've previously studied a Masters level (for example completed part of an MBA), you could receive advanced standing, shaving even more off the cost of your Masters.
How to get in
To gain entry to the Master of Project Management you need to have completed a three-year Bachelor degree in any discipline and be proficient in English.
Find out more
Like the sound of it? Applications are now open to begin in April. To find out more speak to one of our enrolment advisors by calling 1300 589 882 today.