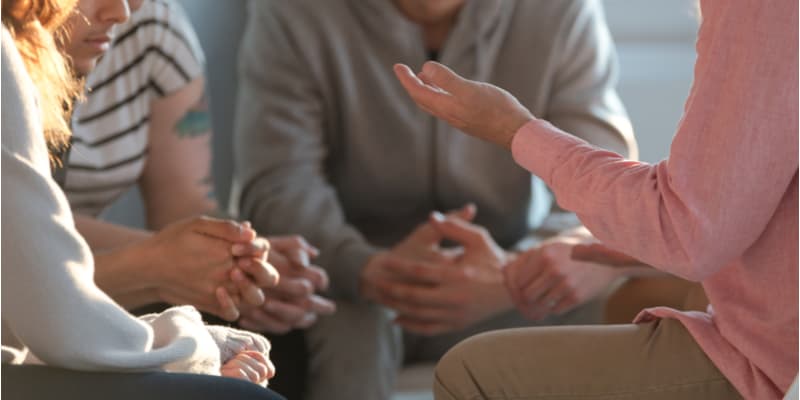 Fundamentals of Mental Health Nursing
5 March 2022
Practising as a registered nurse (RN) is a rewarding, respected career with a very promising future. The Australian government site, Job Outlook, shows robust growth prospects for the highly skilled role of an RN. While there is a diverse range of specialisations available to nurses, from aged care to rehabilitation, community health to medical practice nurses, surgical RN to paediatrics, there is a growing need for mental health nurses in Australia and beyond.
The Australian Institute of Health and Welfare has estimated that around 45 per cent of Australians will experience mental illness in their lives. Some people experience episodic mental illness, while for others, it is like a shadow that never leaves their side. A staggering 2 to 3 per cent of those with mental illness have a severe, intense, chronic and disabling form. Anxiety is the most prevalent mental illness, followed by affective disorders like depression and substance abuse.
As our population increases and the stigma of mental health declines, more people are reaching out for help. This leads to better outcomes for patients and greater opportunities for those interested in the field. Postgraduate studies in this complex field position those with mental health nursing qualifications and experience as crucial members of the health team; they offer hope, support and evidence-based care to those who need it most.​
What does a mental health nurse do?
Mental health nurses are RNs who specialise in mental health. While they may be required to undertake general nursing duties, they predominantly undertake duties in relation to a patient's psychological, physical and overall wellbeing. These tasks may include the following:
Explaining what mental health illness is
Sharing proven ways to manage signs and symptoms
Incorporating the recommendations of treating health professionals
Following up on the response to treatment
Implementing new approaches
Providing advice and a compassionate ear
Liaising with loved ones
Recovery from mental illness needs to incorporate a patient's lived experience, health challenges, capabilities and aims in a holistic manner. Mental health nurses are well poised to deliver this crucial piece of the therapeutic puzzle.
In the best interests of a patient, it is important to establish patient permission before sharing any private information with others. Competent adults receiving care for mental illness, as with all healthcare, have the right to choose who can access their personal information — to avoid any stigma their condition may bring — and make decisions about their health.
Mental health nurses can deliver their holistic services in many settings, including the following:
The community. Mental health nurses in this setting provide community-based case management for people who have long-term mental health issues.
Mental health units in hospitals. Mental health nurses in this setting help treat acute mental health cases that present in hospital, and may also manage rehabilitation.
Nursing homes. Mental health nurses in this setting help residents deal with emotional trauma and stress, and deal with geriatric mental health issues (e.g. dementia and Alzheimer's disease).
Confidentiality in mental health nursing
Regardless of the type of illness, health professionals have a legal and ethical responsibility to maintain appropriate patient confidentiality and privacy. For those suffering from mental illness, this knowledge may act as the security needed to divulge their innermost turmoil, so treatment can be transparent, targeted and effective.
As the Australian Medical Association states:
"Maintain your patient's confidentiality. Exceptions to this must be taken very seriously. They may include where there is a serious risk to the patient or another person, where required by law, where part of approved research, or where there are overwhelming societal interests."
Confidentiality forms an important safeguard required to establish a therapeutic relationship between a mental health nurse and a patient. To build a deeper rapport, there are actions and approaches a mental health professional should employ.​
Four keys to mental health nursing success
Mental health nursing is both an art and a science, expertise and experience, clinical understanding and compassion. What works well for one patient may be dreadful for another. However, there are some essential traits of a mental health nurse who is able to establish effective therapeutic intervention. They may seem obvious, but they are essential.
The role of a mental health nurse is to provide a therapeutic ear, voice and environment, and not to draw conclusions about the rights or wrongs of a patient's experience. Mental health nurses have excellent communication skills and can listen with kindness and empathy. It is important to use befitting facial expressions, body language and tone of voice, as they are crucial for encouraging a remedial relationship. Ask pertinent questions, and use language to encourage patients to be engaged in their treatment.
Mental illness may have profound symptoms that limit the capacity of a patient to follow instructions. Be patient and understand that sufficient trust is needed before patients will be able to reveal their psychological wounds and innermost thoughts. Mental illness often makes people feel at risk and isolated, which could result in brain fog, irritability, anger or erratic behaviour. A primary responsibility of a mental health nurse is being calm, steady and fully present — voicing concerns with the appropriate treating team member.
Patients may ask about your qualifications and experience. It is important to note that this is not a reflection on you; remember that all patients have the right to know who is treating them.
How to become a mental health nursing specialist
Mental health nursing offers its practitioners a very fulfilling career for multiple reasons. Not only will you make a profound difference to your patients, but your work will have a positive impact on families and communities alike.
Specialist training is required to become a mental health nurse in Australia. Typically, the pathway to becoming a mental health nurse is as follows:
Secondary education
To become a mental health nurse, an undergraduate degree in nursing is required. However, aspiring nurses need to complete their final year of school (year 12 or equivalent) and undertake several specialist subjects to qualify for this type of degree.
Typically, to qualify to enter an undergraduate degree in nursing, aspiring nurses need to study the following subjects (or a combination of them): English, mathematics, physics and chemistry.
Tertiary education
Mental health nursing is a specialisation that often requires postgraduate study. However, a foundation in nursing is essential to specialise in the first place. So for this reason, aspiring nurses require an undergraduate qualification in nursing, which is usually a Bachelor of Nursing or a Bachelor of Science in Nursing.
Specialisation in mental health nursing may be possible at this stage.
Specialist education
To become a mental health nurse, a specialist postgraduate qualification is required. Typically, this would be a Master of Mental Health Nursing.
In addition to formal education, specialist mental health nurses will need to complete on-the-job training before they are considered fully qualified. The amount of on-the-job training that is required varies throughout Australia.
Advance your career in mental health nursing
Southern Cross University's Master of Mental Health Nursing is a specialist qualification attained through fully online and part-time study over two years. This program is the first of its kind, bringing together the latest in mental health industry standards as set by the Australian College of Mental Health Nursing.
By combining lived experience with academic excellence and clinical understanding, SCU's postgraduate degree has been designed to accelerate your familiarity with mental illness; equip you with specialised skills; provide the knowledge required to work within private and public settings; and connect you with the support, academic learning and future peers that will advance your career.
Find out more about studying the Master of Mental Health Nursing with SCU Online.