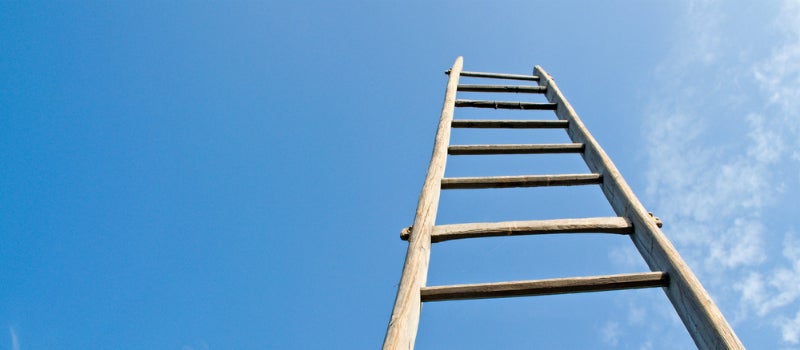 Clerk to CFO?
20 January 2016
Climbing to the top of the career ladder in accounting can be a long journey. With a growing number of specialisations, a wide range of junior and senior roles, plus heavy competition from both local and overseas graduates, that ladder can look more like a maze.
Aspiring accountants are finding it tougher than ever to rise to the top; so how can you take yourself from a clerk to CFO? Here are some tips to advancing your skills and setting yourself up for career success.
Get a foot in the door and work your way up
Traditionally, obtaining an entry-level accounting role at an SME has been the first step towards career success. From there, graduates can seek internal promotions by continually exceeding expectations, and gradually move from clerk to auditor to audit manager, and eventually controller through to chief financial officer (CFO).
The challenge today, however, is that in an often unstable or uncertain economy, business owners are looking to cut costs by outsourcing accounting services. While beneficial from a cost point of view, this unfortunately wipes out many junior accounting roles, ostensibly blocking that first step on the ladder for graduates.
The key to overcoming this hurdle is setting realistic goals for your career. Don't overwhelm yourself and expect to be a senior accountant by a certain date, just take stock of your opportunities as they come and use your ambition to seek out further opportunities, too.
Education is the key to getting ahead in accounting
The good news is that there is always opportunity to get yourself ahead through further study. You can open doors to higher-level opportunities by engaging in postgraduate study to enhance your existing degree and/or skillset.
With a little research, you'll see most CFOs have completed some form of postgraduate study. Many of the skills required for such a position simply can't be obtained on the job. Through postgraduate study, aspiring accountants undertake specialist subjects and programs that will push you higher up the career ladder – enhancing future potential.
Further education is not just an enhancement of your knowledge, it displays a dedication to your industry as well as furthering your career. Standing out from other candidates who only have Bachelor-level qualifications is a key strategy.
The importance of leadership expertise in senior roles
Where leadership isn't required, it is often overlooked and ignored. Sadly, this means many accounting professionals who do move up the ladder take with them little or no management and leadership experience. From here, professionals often find themselves hitting the ceiling, unable to break into senior or CFO roles, which require leadership experience or management credentials.
Developing your leadership and management skills is imperative in building a long and successful career. The best way to hone these skills before you enter the C-suite is through higher education.
SCU Online's Graduate Diploma in Accounting focuses heavily on leadership integration with accounting specialisations, while still retaining the broad appreciation of accounting required for higher-level roles. It is also the only online Graduate Diploma accredited by CPA Australia, and it satisfies all Foundation Exams and learning requirements, enabling you to apply for Associate Membership with CPA upon completion.
While the career ladder in accounting may be longer and more congested, committing to continuing professional development (CPD) and broadening your industry understanding will help you progress.
Accelerate your entry into more senior roles by undertaking a Graduate Diploma. Speak with our enrolment advisors today on 1300 589 882 to find out how it can be crafted to suit your career objectives.