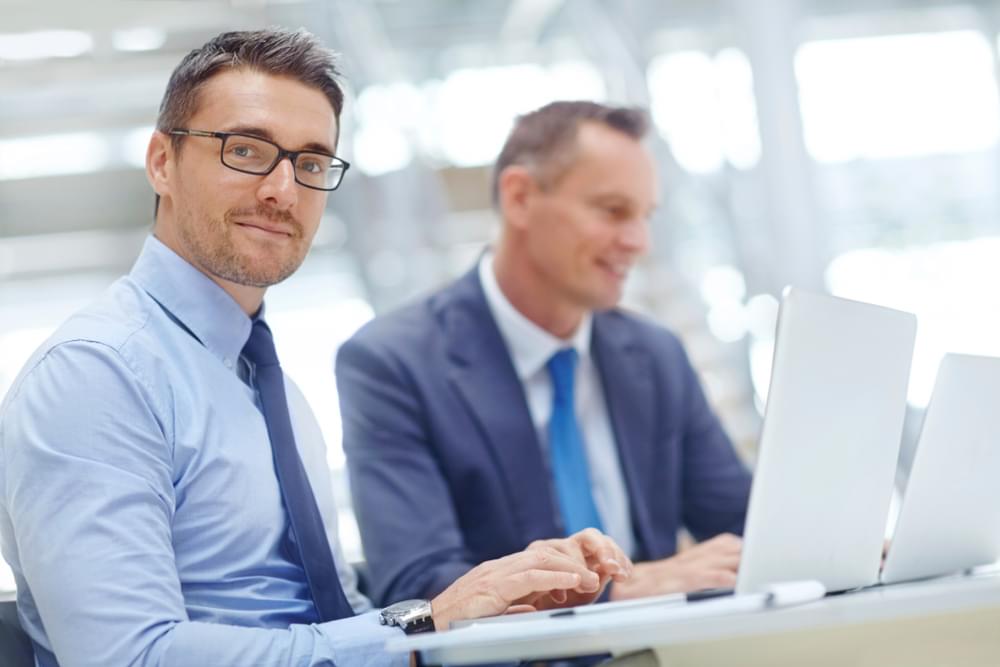 Benefits of an MBA
12 December 2022
The world of business is constantly changing. To stay ahead requires continual learning and growth. Those who want to remain at the forefront of this change should consider a Master of Business Administration (MBA) with SCU Online. An MBA can help provide the skills and knowledge to succeed in today's competitive business environment and advance your career.
Those interested in pursuing an advanced degree in business should know what an MBA is, the benefits of an MBA and potential career opportunities for MBA graduates.
What is an MBA?
An MBA is a graduate-level degree that can provide students with the skills and knowledge necessary to pursue a successful career in business. While the specific curriculum of an MBA program may vary, typical courses include finance, accounting, marketing and management. Many MBA programs also require students to complete a capstone project or internship.
MBA graduates are often employed in leadership or management positions in business.
However, they can also pursue careers in other fields, such as consulting, entrepreneurship or non-profit work. The skills learned in an MBA program are highly transferable, and graduates willing to take on new challenges can succeed in a wide range of industries. With the right mix of skills and experience, an MBA can open the door to a rewarding and successful career.
Why get an MBA?
Deciding to further your education with an MBA is a significant career move that can lead to new opportunities and enhanced earning potential. However, with such a substantial investment of time and money, students may wonder why they should get an MBA.
Below are some key benefits of an MBA.
Change careers
Whether you're looking to change careers or advance in your current field, an MBA can provide you with the skills and knowledge you need to reach your goals.
In addition to giving you a broad overview of business principles, an MBA program allows you to focus your studies on a specific area of interest. For example, many programs offer specialisations in accounting, finance, marketing or management. By completing a specialisation, you can develop expertise in the most relevant area to your career goals.
Earn more money
One of the most important benefits of an MBA is the opportunity to increase earning potential. An MBA provides students with the skills and knowledge that can help them advance in their roles and earn a significantly higher salary than those without a business-related postgraduate degree.
Graduates with MBA salaries are more likely to earn more in Australia. According to Payscale, MBA graduates earn an average annual salary of around AU$103,000, whereas graduates with a Bachelor of Business Administration (BBA) earn an average salary of around AU$74,000. This means the MBA can be a promising investment for those looking to boost their earnings potential and secure their financial future.
Job security
In today's ever-changing business landscape, having the skills and knowledge to adapt to new situations is essential. An MBA can help hone your ability to think strategically, solve problems and make decisions to help a company succeed, which can make you an invaluable asset to your workplace.
Employers are confident in the abilities of MBA graduates in the face of COVID-19 and supply chain disruptions, according to the Graduate Management Admissions Council (GMAC). With skills such as communication, strategic thinking and versatility, MBA graduates can handle changes in the business world and remain integral to their company's success.
Networking opportunities
One of the most significant benefits of an MBA is the access it provides to a powerful alumni network. Many top business schools boast alumni networks that span the globe and include some of the most influential people in business.
If you're looking for a job in business, having access to this kind of network can be invaluable. MBA alumni are often willing to help fellow graduates with their career search, and they can provide insight into which companies are hiring and what kinds of positions may be a good fit for you. In addition, alumni can also serve as mentors, providing guidance and advice as you navigate your career.
For these reasons, if you're considering an MBA, remember not to underestimate the power of networking — it could be the thing that helps you land your dream job.
Leadership roles
If you aspire to become a CEO or another type of executive, an MBA can give you the skills and knowledge you need to take on a leadership role. Many MBA programs offer strategic management, organisational behaviour and negotiation courses, which can all be valuable for advancing into more senior positions.
Personal growth
Many business professionals choose to pursue an MBA to further their careers, but there are also many personal benefits of an MBA. For example, MBA students learn to think critically and solve complex problems. They can also develop essential interpersonal skills, such as teamwork and negotiation. As a result, MBA graduates may find that they're more confident, well-rounded individuals.
An MBA can open up new career opportunities, provide essential business skills and knowledge and help you build a network of professional contacts. If you're prepared to invest the time and resources into pursuing an MBA, it can be a very worthwhile investment in your future.
Why is this a great time to get an MBA?
An MBA can be a valuable investment at any stage of your career. However, there are reasons why now is a great time to get an MBA.
The job market is strong
Despite fears of a potential recession, many opportunities are available for MBA graduates. Companies are looking for candidates with the skills and abilities that an MBA can provide; a 2020 survey by GMAC found that nearly 90 per cent of employers were planning to hire MBA graduates in 2021.
MBA programs are becoming more flexible
With the rise of online and part-time programs, it's easier than ever to fit an MBA into your busy schedule. If you're looking for a program that'll allow you to continue working while you study, you have plenty of options to choose from.
You can specialise your MBA
One of the great MBA benefits is that you can specialise your studies to match your career goals.
Study a general online MBA or specialise in one of four areas: Accounting, Health Services Management, Information and Knowledge Management, or Managing and Leading People.
Each specialisation has been designed to help students succeed in a specific area of business. For example, students who choose the Accounting specialisation will take courses that focus on financial reporting, taxation and auditing, while those who choose the Health Services Management specialisation will take courses that focus on healthcare policy, finance and statistics.
Careers for MBA graduates
An MBA can arm graduates with widely applicable business competencies, as well as some that are specific to certain industries. There are potential careers for MBA graduates in many different sectors, such as finance, healthcare, human resources, and more.
Information and Knowledge Management Careers
MBA graduates are equipped with the tools and knowledge to effectively manage and analyse data for businesses and digital enterprises. They can pursue a variety of careers in data and information management and analytics.
IT Application Manager
IT application managers help enterprises maximise their IT programs for the greatest efficiency. This can include researching IT software, installing and configuring said software and applications, running routine updates and audits and creating data reports.
IT application managers need advanced IT knowledge and technical skills, a current understanding of technology trends and applications and an understanding of business processes. They should also possess leadership and time management skills.
At the time of writing, IT application managers earn an average annual salary of AUD$109,253 according to Payscale.
Accounting Careers
Graduates with an MBA education can also work in accounting, helping businesses optimise their finances. These graduates may also take on leadership roles in finance, which may lead to working in the C-suite.
Senior Financial Accountant
Senior Financial Accounts prepare and oversee a large number of reports, including management and financial reports such as balance sheets and profit and loss statements. They help to keep track of important company records and provide strategic insights to executives based on what they find.
These professionals should have strong analytical skills, keen attention to detail and excellent communication skills.
Senior Financial Accountants earn an average annual salary of around AUD$100,701 according to Payscale.
Health Services Management Careers
With certain specialisations, MBA graduates can take on roles in health administration and management. These roles often include managing health services and optimising processes to improve care delivery.
Director of Nursing
The director of nursing oversees the activities of a nursing department, including monitoring budgets, developing educational programs, managing inventory and more. They also collaborate with other high-level healthcare professionals and departments.
Directors of nursing should have strong leadership skills, compassion, clinical expertise and critical thinking skills.
The average annual salary for directors of nursing is AUD$120,111 according to Payscale.
Management and Leadership Careers
One of the biggest MBA benefits is that graduates are often well-equipped for leadership positions. This could mean holding a management position, heading a department or overseeing certain operations. There are many potential leadership careers available to MBA graduates.
Head of Product Marketing
The head of product marketing leads and supervises an entire product marketing department. They also set marketing strategies that detail how their product will be positioned, key messaging and unique selling points, along with a go-to-market strategy.
Key to succeeding in this role are technological prowess and strategic skills. Heads of product marketing must have a firm grasp of digital marketing, as technology is fast replacing more traditional marketing methods.
Heads of Product Marketing earn an average salary of about AUD$141,902 according to Payscale.
Head of Human Resources
A head of human resources typically plans, directs and develops an organisation's human resources strategy. They manage multiple HR staff, including HR business partners and HR coordinators. This strategy includes all elements of HR, including hiring, performance, engagement, compliance and learning and development.
Heads of human resources need strong interpersonal skills, negotiation skills, collaboration abilities and in-depth knowledge of the business they work for.
Heads of human resources earn an average annual salary of around AUD$146,784 according to Payscale.
Group Operations Manager
Group operations managers create operational strategies that aim to improve performance. They also oversee the procurement of key materials and resources, as well as ensure compliance. They are senior executives and people managers, so they oversee large teams of people.
Since group operations managers can oversee various processes, they can have a large swath of skills. They may include but are not limited to: effective communication, business acumen, organisation and time management and financial expertise.
Group operations managers earn an average annual salary of around AUD$84,788 according to Payscale.
What to consider before applying
There are many potential benefits of an MBA for prospective students. However, if you are interested in studying an MBA, you should consider several factors. First, you should consider your chosen specialisation and find an MBA that is well-suited to that specialisation. Additionally, you should find a program that works well with your current schedule and commitments. Cost, coursework and other considerations should factor into your decision as well.
Get your MBA at SCU
SCU Online's MBA can give you the skills and knowledge to succeed in a range of senior management roles. Explore the curriculum and leverage your career opportunities with SCU Online's MBA.