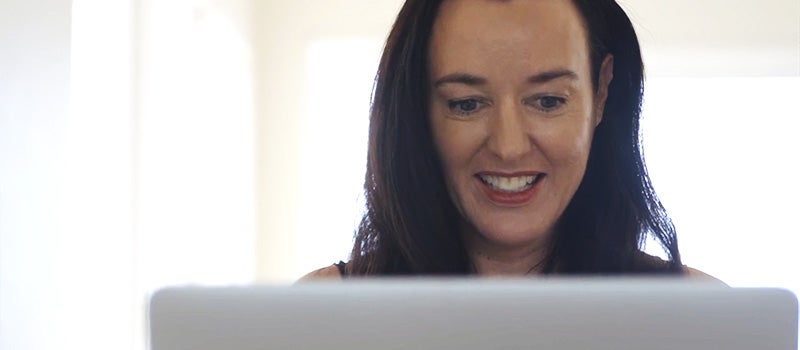 Marketing to Senior Management with an MBA
7 November 2018
We had a chat with Master of Business Administration student Melinda Hutchings to get her insights into studying a masters online, balancing work and family life, plus how she's using her new skills at work.
Why an MBA?
Melinda was drawn to studying an MBA because she had a goal to build her business acumen. With a background in marketing and communications, she felt she wanted to develop her knowledge in all facets of business and be more confident to step up to general manager and CEO roles.
"One of the reasons I chose to study an MBA is because of career advancement, I'd also like to improve my leadership skills, and my critical thinking skills, increase my awareness and knowledge of the business environment today.
"I think that that's really going to help give me an edge when I'm going for a promotion, or if I'm going for a role at a general manager level or CEO level."
Learning online
Taking the plunge with enrolling in an MBA can be daunting and for some, the thought of also learning new technology at the same time can sound like an extra pressure. But for Melinda, she found the online platform easy to use and it didn't become a distraction in her learning.
"The way that the online interface is set up means it's so easy to navigate and that gives me the flexibility to just be able to focus on my studies without having to worry about how to use the platform."
Melinda also felt that even though the course is completely online she wasn't disconnected from her peers or academics.
"We have collaborate sessions every week, during those collaborate sessions I can ask any questions that I want and they always give me really comprehensive answers. It's really obvious that they are invested in the student succeeding."
Balancing work and family life
Taking on the MBA for Melinda was all about timing. One factor was balancing her family life with the commitments of study. She waited until her son was older before she took on the task.
"I have wanted to do an MBA for a while and now that my son is 11 and more independent I felt like it was a good time to do it.
"I chose to study online because I have such a busy life. I have a full-time job and I really love that and work really hard at my career. Studying online has given me the flexibility to study anywhere, at any time."
She said she couldn't have done it without the support of her partner and son.
"My son gets really excited when I'm getting my grades. He wants me to do really well and he's really excited that mum's studying."
The impact at work
Melinda is a Marketing and Communications Manager in the Early Childhood sector and so far the MBA is helping her change the way she thinks about her day-to-day role.
"There is a lot of the strategic planning I do in my role, and the MBA has helped me to become a really critical thinker and to look at things in a different way and so far as having a greater body of knowledge of the business landscape."
She said the knowledge she's gained has also helped her with strategic direction when presenting ideas, especially when in meetings with senior executives or the CEO.
"It's really helped me have the confidence to really know what I'm talking about because of all the different skills I've picked up."
In addition to strategic finesse, Melinda says the MBA has also given her a new vocabulary and different ways to express herself in business.  
Subject-specific
Of the units Melinda has studied already, she said the unit about Strategy & Case Analysis has been beneficial and she's been inspired to use skills she's learnt in this unit at work.
"That's really helped me with my planning when I'm doing a competitive analysis within my industry and within my sector, and also within my organisation."
Have you got similar goals to Melinda? Take your career to the next level. Find out more about studying a Master of Business Administration or by calling our helpful Student Enrolment Advisors on 1300 589 882.