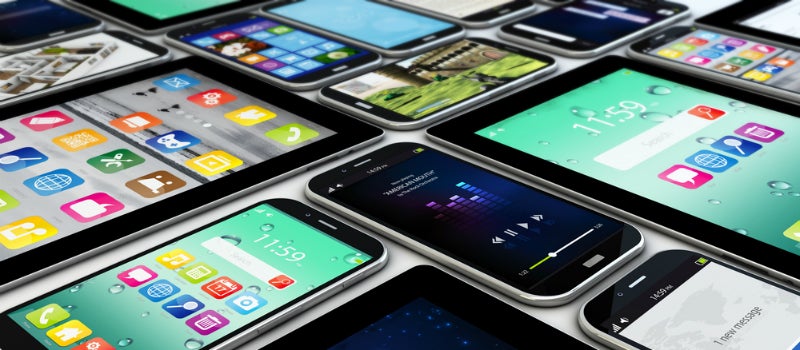 How the rise of mobile has affected the IT industry
10 December 2015
In the 1990s, we saw the World Wide Web quickly begin dominate our day-to-day lives. What started as a seemingly mind boggling phenomenon that only its developers understood soon became an integral part of how we operate. Consumers can now search for whatever they choose, make purchases, connect with businesses and make contact with people anywhere in the world.
Operating systems and supply chains have evolved; everything from recruitment to sales is altered by new technology. Now, tech trends are moving again. Enter: the mobile revolution.
The evolution of mobile platforms and ecosystems
Mobile phones first came to market to facilitate local voice calls. Over a relatively short period of time, mobile phones began to facilitate international calls, text messages and small applications like 'calendar' and 'address book'. Devices grew to include it all, including features such as cameras and polyphonic ringtones. That was, until 2007 when Apple launched the first iPhone.
Since the iPhone, mobile technology has never been the same. Androids are now hot on the heels of Apple's largely successful iOS operating system, and every smartphone released comes with more features than it's predecessor. Tablets have also emerged during this time, stealing market share from traditional desktop computer and laptop sales.
What does this mean for business?
It's never been easier to communicate. Our global obsession with the internet means employees can stay connected anywhere they wish via super-fast Wi-Fi connectivity. This hugely impacts human resources and marketing, and has arguably improved productivity. That said, businesses have had to become incredibly proactive in integrating mobile technology to keep up with the pace of change.
Challenges related to data security
With mobile prevalence comes the inevitable question of security. The increased use of online banking, GPS tracking and location-based services all within one small device – extending to storage solutions like The Cloud – poses questions regarding security, with hacking being a real and ever-present danger facing both businesses and consumers. The negative impact of a breach associated with a brand can have catastrophic consequences. Tight monitoring requires time, skill and effort – and this can put a strain on a business' resources.
Additionally, mobile payments (Google Wallet, Apple Pay and Samsung Pay) are set to revolutionise the world of banking, and may bring about the decline of card use. This, again, poses a security risk and will require rigorous testing before it can be deemed and perceived safe in the marketplace.
The role of the camera in business operations
Who doesn't like FaceTime? The Mobile World Congress 2015 was rife with talk of 5G connectivity by 2020, possibly attributed to the rise of the front-facing camera. Revolutionising not only social interactions, but customer service interactions (like Amazon's Mayday button) and internal business relations, cameras will continue to positively influence the way we work together.
Wearable technology
Nobody really knows what change will come about as a result of the smart watch. While adoption has been large, there is much discussion surrounding its value and whether it will survive.
If you'd like to explore mobile and relevant changes in business for yourself, enrol in a Master of Information Technology Management today. Our friendly student enrolment advisors are available on 1300 589 882 to discuss.